This Game-Changing Robot Vacuum and Mop Gets My Space Spotless in Half the Time — and It's $200 Off
Apartment Therapy received compensation for this post, which was written and edited independently by our editorial team.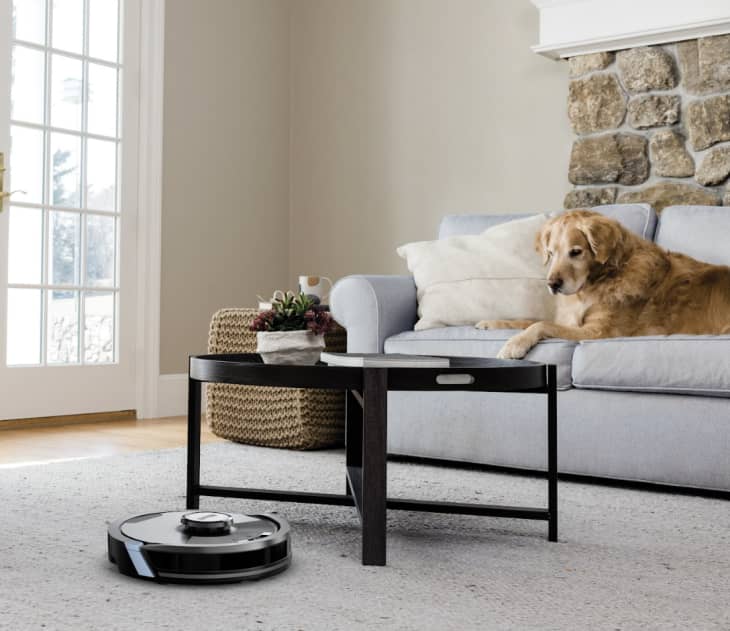 In my house, vacuuming is mandatory every single week. That's mostly because I have relatively long hair, and I shed more than my Pomeranian. So when robot vacuums first came onto the scene a few years ago, I immediately wrote off the tiny floor cleaners as nothing more than a passing fad. Certainly, they'd be no match against my uncontrollable tresses compared to my family's upright Shark vac, which has been going strong for nearly 13 years. Despite my skepticism, though, I ended up trying one of these notorious hands-free vacuums… and really liking it.
The biggest tip-off that I'd end up loving my 2-in-1 vacuum and mop robot should've been that it's also made by none other than Shark, the vacuum brand my mother swears by (and she's the tidiest person I know). When the robot vacuum arrived at our house, she was adamant that the new machine would never replace our trusty upright cleaner, even though the latter is such a pain to lug around our two-story home. From the get-go, however, Shark's 2-in-1 robot proved more convenient in every possible way. 
For starters, it required barely any assembly after I unboxed it. All I had to do was click the two landing pad parts together, place the charging dock on top, and that's it! The vacuum was all ready to go after a couple hours of charging. From there, I downloaded the SharkClean app, which, I'll be honest, I was nervous about given that I'm not the most technologically adept person. But that part, too, was simple to figure out.
In the app, you can name your vac-mop (mine's called Tiger), connect it to Wi-Fi, and set it out on a preliminary course around your home. From there, it maps out the entire level and provides you with a map of it, broken up into different rooms. I'm telling you, my Tiger is so smart! As it maneuvered through our top floor, what struck me was how quiet it is. During its one-hour run time, the robot made multiple rounds in each room, starting at the perimeters and gradually going inward, leaving no spot untouched. I even turned it on during work hours and experienced no distractions. The only thing is, if you have stairs, I'd advise you to put up a dog gate, otherwise the vacuum automatically stops in front of them and asks to be brought back to its dock. 
Other than that, I was delighted by how well the Tiger cleaned — not a hair in sight! As for the mopping feature, I just attached the appropriate mopping part and one of the included microfiber pads, then filled the robot with some water and the provided cleaning solution. I let the robot map out our kitchen and front entryway, which have tile floors, and watched as it essentially washed them, leaving every tile clean but not sticky. I would say, though, that if you want a powerful, deep clean, you might be better off scrubbing hard with a handheld mop. But the vac-mop is great for quick mopping sessions and touch-ups when you don't have the time to do it manually.
When the Shark 2-in-1 finishes its rounds around the house, it goes back to its dock to empty. That's right, this machine empties itself, discharging all the dirt and gunk into its little home so you don't have to dirty your hands. It's a simple, but appreciated, luxury. So the question stands: Would I recommend the Shark 2-in-1 vacuum and mop robot? Definitely! In fact, I wish I had one for each level of my house.
And luckily for shoppers, now until Feb. 1, you can get $200 off your own vac-mop and self-empty base with AT's exclusive code, APARTMENT200. Or, get $150 off just the vacuum with code APARTMENT150. Trust me, once you have it, you'll be wondering why you hadn't bought one sooner.