Sherwin-Williams On What Color Palettes Will Take Us Into 2019 & Beyond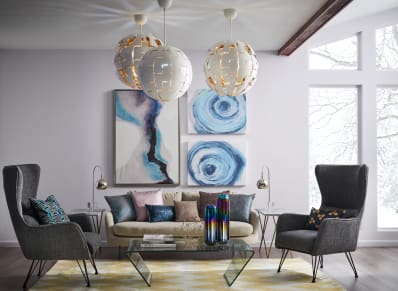 (Image credit: Courtesy of Sherwin-Williams)
While we still have six months left of 2018, that hasn't stopped paint companies from looking forward to 2019 and beyond. If you're dying to know what colors will be hot for the last year of the decade (we're looking at you, renovators and redecorators), Sherwin-Williams just announced their color forecast for next year. Here are its picks for color trends for 2019.
Paint brands often release color forecasts in advance of their more specific Color of the Year announcements, with that special hue hiding in plain sight amongst the palettes. Which one of the below colors do you think could be 2019's chosen one?
"Our intent was to ask ourselves, 'If this palette were a person, what kind of person might they be?' making it important to bring forth a forecast that is personal and aspiring, yet attainable— how all design should be," says Sue Wadden, director of color marketing at Sherwin-Williams. There are 42 colors divided amongst six different palettes, from bold and energetic to calming and muted. Here's a little bit about each:
(Image credit: Courtesy of Sherwin-Williams)
The Raconteur palette has a bit of history; it contains the company's 2017 Color of the Year, Poised Taupe. In addition to that creamy greige, there are other muted tones that can serve as neutrals. "From rich red to muted mauve, Raconteur represents storytelling itself," said Wadden. "These stories are a subtle reminder of how everyone is connected."
(Image credit: Courtesy of Sherwin-Williams)
In Aficionado, you have a modern interpretation of timeless classics. "When we say 'Aficionado,' it evokes an emotion of what is best-in-life, well-worn and bespoke," said Wadden. "It is ostentatious without being fake or showy, and has the right amount of charm to make it feel tasteful."
(Image credit: Courtesy of Sherwin-Williams)
Etherial hues make up the Shapeshifter palette. "The atmospheric wisps of color, grounded by deep, mysterious blues capture the unique space between technology and spirituality found in the Shapeshifter palette," said Wadden.
(Image credit: Courtesy of Sherwin-Williams)
Naturalist is inspired by botanical prints. "From conservancies to hothouses, Naturalist brings you into a chic, French woodland," said Wadden. "It's a place where color never fades."
(Image credit: Courtesy of Sherwin-Williams)
Earthy tones and Southwest hues make up the Wanderer palette. "[It] is sun-washed and warm," said Wadden. "It brings you to a modern desert made of one part cowboy, one part Scandinavian style that produces a luxurious result."
(Image credit: Courtesy of Sherwin-Williams)
Enthusiast includes another COTY; this time, 2018's Oceanside. "The Enthusiast palette is a fresh take on 'maximalism'," said Wadden. "It's an opportunity to have fun and push boundaries with color."
For more information on each of the palettes, check out Sherwin-Williams' Color Forecast.