How to Shop for a Forever Home That'll Stay Comfortable as You Get Older
We independently select these products—if you buy from one of our links, we may earn a commission. All prices were accurate at the time of publishing.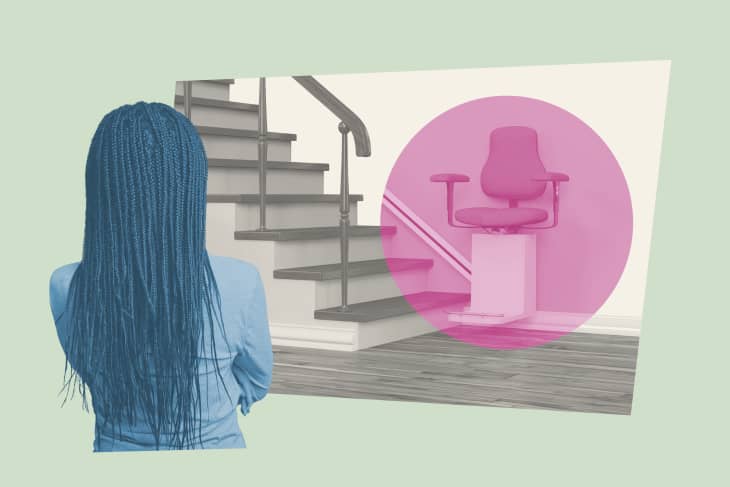 Shopping for your forever home — where you can continue to live comfortably as you age into your 60s, 70s, and 80s? It may take more than finding a house with a walk-in shower.
Follow Topics for more like this
Follow for more stories like this
With the population of seniors in the U.S. growing rapidly, Rodney Harrell, vice president of home, community, and family at AARP, recommends thinking about your future needs in a home, no matter your age while home-shopping. Universal design, or elements that make an environment more accessible, can help with this.
For starters, Harrell points to AARP's HomeFit Guide. It outlines what to look for in a home that's suitable for aging in place, such as at least one step-free entrance into the home, well-lit hallways, and toilets that sit at a comfortable height. 
These were things that Joan, a 77-year-old resident of Fairfield County, Connecticut, kept in mind after she retired from a corporate career to become a full-time caregiver for her aging parents, as well as her aunt.
Though she's no longer a caregiver, Joan continues to swim, lift weights, and keep up the house she remodeled for her elders. Here's how Joan renovated a single-family house for aging in place — and her advice for those seeking such a home of their own.
Layout is the most important consideration when shopping for a home to age in place.
"Life will keep changing until the end of their days," Joan says of seniors dealing with health problems, "and those changes will happen fast." If you or your loved ones need a home with accommodations for aging in place, her recommendation is not to put them off for "someday." 
While browsing homes on Zillow or in person, it's imperative to ensure the kitchen, a full bathroom, and at least one bedroom are on a single level for accessibility reasons. If you've fallen in love with a home that doesn't offer this, an elevator or stair lift could come to the rescue.
Similarly, having at least one entrance without any steps, as well as wide hallways, helps those using mobility aids enter a home seamlessly. If your dream home lacks this feature, you'll want to confirm you'll be able to install a ramp on the property down the line.
Make sure the bathrooms have — or can accommodate — aging-in-place friendly features.
According to the Centers for Disease Control and Prevention, the highest bathroom injury rates are in those aged 65 and older; "for all ages, the most hazardous activities were bathing, showering, or getting out of the tub or shower." 
If you're eyeing a home with a bathtub, you'll either want to skip it or make room in your budget to replace it.  "Never keep the bathtub," Joan says. "It's very dangerous for seniors. A walk-in shower with a seat is essential."
The same study noted that "approximately 14 percent of injuries were associated with standing up from, sitting down on, or using the toilet, but among persons aged [greater than or equal to] 65 years, the proportion ranged from 19 percent to 37 percent." That's where a comfort-height toilet and sink come in handy.
Similarly, pocket doors in the bathroom are key. Having a contractor swap these for the original made getting in and out with a walker so much easier, Joan says: "My father was able to maneuver by himself for many years." 
"Seniors won't want to admit they need these things," Joan says from experience. But this is a benefit of universal design — such home improvements can be an aid to users of all ages and abilities, from children to elders to the pregnant and tired.
See if the kitchen will allow for accessible appliances.
Another important consideration relates to a home's appliances. Questions to ask in a home, says GE Appliances industrial design leader Marc Hottenroth, are: "How easy is this [appliance] to use? How easy is it to put things in and take them out? How about the ergonomics? And capacity — does your family expand at holidays or summertime?" 
If you're interested in buying a home that doesn't have aging-in-place friendly appliances yet, you'll want to make sure the property has the ability to incorporate them during renovations.
As far as features to seek out or install, induction cooktops, for example, are safer than standard gas or electric ranges because "they don't get hot; the pans get hot," Hottenroth says. "You can take the pan off, and a few seconds later, [the surface] is cool."
In either case, "it's important that the controls be in front so users can avoid reaching over hot surfaces," says Harrell. It's easier to see and use front-mounted controls, and some even have LCD displays. But if children, jumpy pets, or someone's hip might turn a dial, be sure to get locking controls or easy-to-order covers.
You may not even need a conventional oven these days; a convection microwave can handle baking and roasting. Convection microwaves cost more up front, but the energy savings pay off and aid the environment, Harrell notes. Among conventional oven options are ones with a voice-activated door.
Say "open the door" with full hands, and the door — no handle! — glides open for you. Another choice has French doors. Pull one side, and both open smoothly, Hottenroth says. Without the typical door in the way, you can get closer. "With muscular loss, hovering over a big door can be hard," he adds.
Dishwashers can be annoying for anyone to reach into. Using just the top half of a two-section appliance is a solution (though a pricey one), says Harrell, that "may reduce the bending needed with a standard model." An alternative is a three-rack model with silverware on top, Hottenroth says. Users with difficulty bending or stooping may set it to "upper wash only," then use the whole machine when family or friends visit.
Washers and dryers, too, can be tough on aging bodies: Lean into a top-loader, or stoop for a front-loader? Harrell favors front-loaders on 10-inch pedestals, which are sold separately. With top-loaders, he recommends having a sturdy step stool nearby. 
The trouble is, front-loaders are known for mildew problems — "a major sticking point for most front-load consumers," Hottenroth admits. GE designers "added an air ventilation system and antimicrobial material, which has been wildly successful," he says. 
Whatever you buy, consider visiting a sales floor. "Seeing something in person can help you understand how a machine will fit your needs, how you can reach things (or not)," Harrell says. This is one reason AARP has partnered with Lowe's on aging-in-place content and solutions, a project called Livable Home.
"It's worth a trip," he says, "to see what descriptions mean in real life."
Whatever style of home you consider buying, keep flexibility in mind from the bedroom to the bathroom to the kitchen and laundry room. Can each space accommodate updates for changing needs? And can your budget accommodate the extra expenses of what might be needed, from a walk-in shower to a stairlift to a convection microwave? Aging in place will come easier if you shop for a home with this as a goal from the start.