Why You Should Ditch Liquid Dishwasher Detergent Stat
We independently select these products—if you buy from one of our links, we may earn a commission. All prices were accurate at the time of publishing.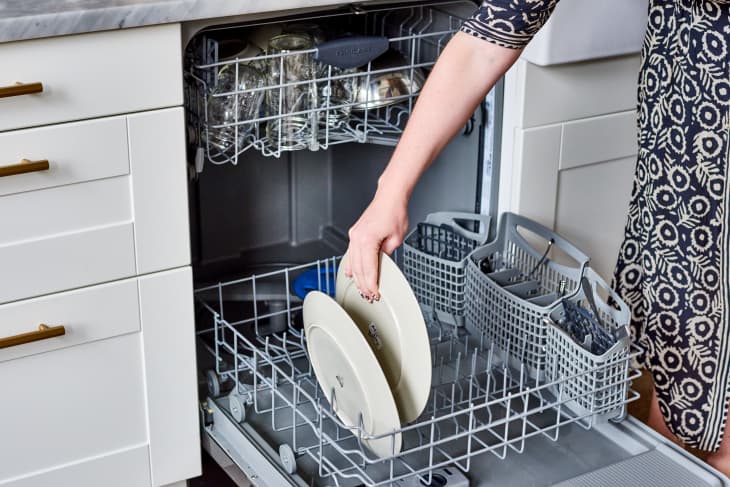 Talk to just about anyone who's been an adult for a few years, and they'll likely have some opinions on how to do the dishes. There are those who swear by hand-washing, and those who say that method actually uses more water than a dishwasher (this can actually be true, if you're wondering). There are those who throw pots, pans, cups, and more into the dishwasher at random, figuring they'll all get clean one way or another. And there are people who have a specific, strategic method for loading the dishwasher. And then, of course, there are the people who use liquid dish detergent versus those who use pods. 
Which Dishwasher Detergent Cleans Best?
If your knowledge of dish washing and appliances is pretty standard, then you probably think that choosing to use a traditional liquid dish detergent or a tablet is simply a matter of personal preference. According to some experts, though, there may actually be a superior option. As another Apartment Therapy article points out, tablets tend to dissolve gradually throughout the rinse cycle of a dishwasher, while liquids and gels get washed away as soon as the appliance fills with water.
According to Reviewed.com, there's another reason why tablets might be a more efficient way to clean. Though bleach and enzymes are the two main ingredients used in dish detergent, only one of those things can exist in liquid or gel form. So while you might get bleach and enzymes in a tablet, you'll only get one or the other in gels or liquids. This is because bleach will eradicate enzymes in liquids. 
This doesn't mean that gel packs or liquid aren't effective, though. In fact, according to an article on MQ Appliance Services, gel can also be more gentle on dishes, so it's worth considering if you wash a lot of fragile items frequently.
When choosing what type of dish detergent to use in your dishwasher, it's also worth considering what kind of water you're dealing with. As the same article by MQ Appliance Services explains, powder detergent is often the best choice when you have hard water — water that causes limescale deposits, streaks, white spots and cloudiness on dishes. Powder detergent is most effective at removing most of these stains. 
If you aren't dealing with hard water, though, and you aren't trying to pinch pennies (powder is also the most cost-effective dish detergent option), tablets are the most effective option on the market, according to Consumer Reports.
Tips for Switching to Tablets
If you're making the switch to tablets and you're looking to offset the additional cost, though, there are some easy ways to do that. One idea? Stop pre-rinsing your dishes before you load the dishwasher. You'll use less water and allow your dishwasher to work as efficiently as possible. If you do pre-rinse your dishes, you run the risk of your appliance's sensors thinking the dishes are clean. When this happens, the machine will use less water and actually clean less efficiently, causing you to have to wash the dishes again by hand to get off extra bits of food or crumbs — something no one wants to do.