Here's How a "Capsule Wardrobe" for Your Groceries Can Help You Stick to Your Budget
We independently select these products—if you buy from one of our links, we may earn a commission. All prices were accurate at the time of publishing.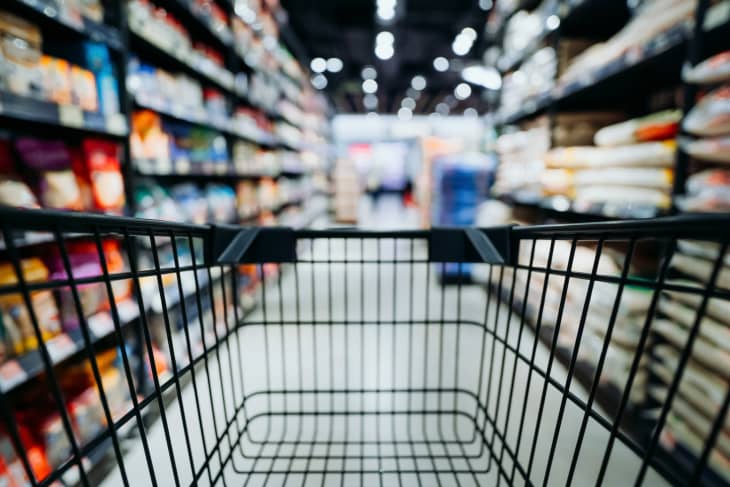 If you have too many clothes with nothing to wear, then you've probably heard about the need to build a "capsule wardrobe," or a limited collection of clothes that all complement each other. The concept is built on the idea that you can mix and match a few staples to form many different outfits.
However, a capsule wardrobe isn't only for your closet. If you think about it, you can apply the same principle to food, especially as prices soar and staying within budget gets progressively more difficult. Having a limited selection of grocery staples that go with each other will maximize the number of meals you can create in a week.
With a capsule wardrobe for your kitchen — a capsule pantry, if you will — you can feel just as satiated without spending so much. In a TikTok video, Kara Pérez (@webravelygo) shared how this method helps her save money on grocery shopping. If you have no idea where to start, here's what you can do. 
Which foods should I include? 
You should have versatile foods that can be prepared in many different ways, but you also need to think about meeting your dietary needs.
Instead of limiting your capsule pantry to a certain number of foods, you ought to have ample choices from different food groups to make enough dishes that will keep you full until your next run to the grocery.
Samantha Cochrane, a registered dietitian nutritionist at The Ohio State University Wexner Medical Center, recommended the following foods:
Protein: Eggs are a kitchen staple because they give you limitless possibilities. Meats like chicken, salmon, pork, or beef are also good sources of protein, but if you don't eat meat, canned or dry beans are a great addition to meals. Nuts and seeds, which make a great snack on their own, can be added to salads and yogurts as well.
Starchy foods: You can opt for potatoes or whole grains like rice, tortilla, bread, and quinoa, which are all versatile and easy to pair with many different foods. Alternate between them for more variety in your diet.
Vegetables: Having broccoli, cauliflower, or carrots would easily give you a filling side dish, and they can all be eaten raw, roasted, or steamed. Grab some leafy greens as well to eat as a salad, add to a sandwich, or wrap around your protein sources. Don't forget to include onions and bell peppers to add more flavor to various dishes and salads. 
Fruits: Any fruit you like would work, but it's great to buy those in season to have a variety all year round. Canned fruits with no added sugar or sodium are nutritious, too.
Dairy: Yogurt, cottage cheese, and milk are great sources of calcium you can include in different dishes, so it helps to have them in the fridge. Low-fat cheese also adds flavor to a lot of dishes.
According to Cochrane, all these are "whole foods" that can be used in multiple ways. Whole foods — unprocessed foods or those with minimal processing — are generally healthier because they don't contain added sugars or manufactured ingredients, unlike processed foods. 
"We know making whole foods the backbone of what we're eating can be a helpful way to make sure your body is getting more of what it needs, and less of what it doesn't," she adds.
What kind of meals can I prepare?
With the recommended foods from each food group, you can already prepare a wide variety of meals. Here are some examples that are fairly easy to make, according to Cochrane:
Meal 1: Two scrambled eggs with 1/4 cup of diced bell peppers and onions, one piece of fruit, and one to two pieces of whole-grain toast
Meal 2: A plant-based salad bowl made with a bed of leafy greens with 3/4 cup of quinoa, one cup of black beans, sautéed onions, and bell peppers, 1/4 cup of cheese, and a piece or a half cup of fruit
Meal 3: Baked salmon, roasted potato chunks with onions, and roasted broccoli and cauliflower
As you experiment with your capsule pantry, make sure to try different foods every once in a while. Although sticking to a certain grocery list is easy, it's best to make different choices every week to help vary nutrient content, says Cochrane.
Do I have to spend a lot?
The goal of a capsule wardrobe for your kitchen is to help you stick to your budget and still eat nutritious meals regularly. However, you can save money even further by doing the following:
Plan your meals ahead of time. Create a meal plan for the week ahead. Make a list of what you'll need for those meals to avoid coming home with foods you might not use.
Buy produce in season. In-season produce is usually less expensive because it is in large supply. You can visit Nutrition.gov to view recipes for seasonal foods. 
Don't go shopping hungry. Eating before shopping may help you stick to your grocery list and avoid adding additional items. According to a 2015 study, hunger can even make you buy more items that aren't necessarily food.
Buy conventional foods. Organic foods cost about 50 percent more than their conventional counterparts, but they're not necessarily more nutritious.
Use leftovers. View leftovers as ingredients for a new dish to ensure that you maximize the money you spent on food and nothing goes to waste. 
You don't always have to spend a lot on groceries to eat well and have a well-balanced diet because food can be affordable, says Cochrane.
That said, it's also important to recognize that people who struggle financially might face other barriers to healthful eating, such as the equipment and ability to prepare food safely, as well as the access and transportation to a grocery store, she adds. Just like deciding to build a capsule wardrobe doesn't instantly fill your closet with clothes, working toward a capsule pantry won't lower inflation or immediately slash your grocery budget — but it may help you keep full and lower your weekly bill over time.