This Genius DIY Candle Company Helped Me Reuse All My Old Candle Jars (and They Smell Divine!)
We
independently
select these products—if you buy from one of our links, we may earn a commission. All prices were accurate at the time of publishing.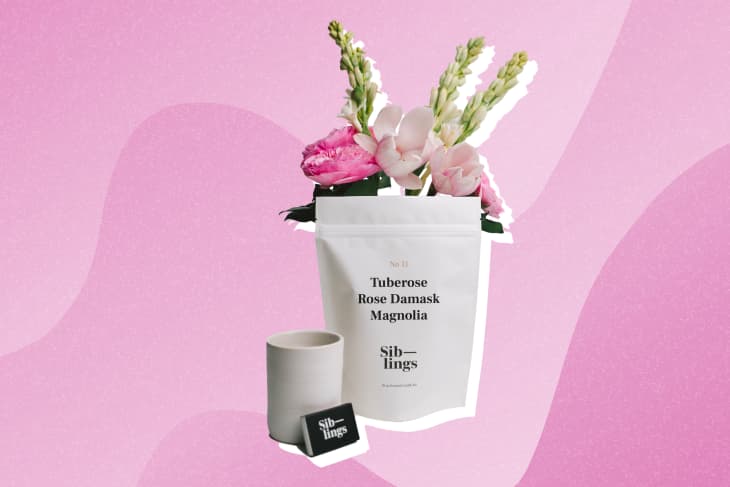 Story time: I once lived in a tiny Brooklyn apartment with two other roommates who, among many of their other quirky tendencies, loved getting together to test out DIY projects. They once tried making candles in our kitchen and in the process, made the ill-advised decision to pour the excess wax down the drain. The wax hardened and clogged our sink for three days, which cost hundreds of dollars to fix. Needless to say, that annoying fiasco halted my at-home candle making ambitions for quite some time.
Fast forward to a couple of months ago: I was offered the opportunity to test out a DIY candle company called Siblings, which sells the wax sans vessel in an effort to help eliminate waste. I'll be honest — I was a little skeptical about dabbling in the DIY element of this brand, but I couldn't deny the potential this product had to prevent me from throwing away perfectly good candle jars. I tend to purchase a new candle every week (sometimes more if they're on sale!) and I keep mine burning throughout the day as I'm working or tidying up. While I've been able to transform some of my used candle jars into cups, toothbrush holders, and pen jars, I only have room for so much repurposing. This is where the Siblings wax came in handy.
I ordered Scent No 01, which is a beautiful bouquet of bergamot, white rose, and oakmoss. The solidified wax came in a pouch which also contained one lead-free cotton wick and one wooden wick holder — everything you need to make your mess-free DIY candle sitch happen. The instruction manual included in the kit read, "If you can make a cup of coffee, you can make a Siblings candle." Feeling motivated by this promise, I began the process by grabbing an old candle jar that I'd emptied and scooped out any remnants of old wax. I then washed the jar out with soapy water to make sure it was completely clean before pouring in the new wax.
Both the wax and the bag it comes in are microwave-safe, which really makes working with the Siblings wax a painless process (you can also simmer the wax on the stove for five minutes if you don't have one). After popping the bag in the microwave for two and a half minutes, I let it cool while prepping my jar. The wick comes with a metal attachment that sticks to the bottom of the vessel. After getting the wick perfectly centered, I threaded it through the wick holder, which ensured it stayed upright before the hot wax came to the party. I removed the liquified wax from the microwave and began to pour it into the jar. Despite a few minor spills down the sides, the wax made its way into my old jar seamlessly.
I'd say that the hardest part of the process was waiting the two hours for the candle to harden. I found myself hovering over the candle every 20 minutes because I couldn't wait to test out the final product. Eventually, I decided to distract myself with a few episodes of my favorite show to pass the time. Once the waxed solidified completely, I trimmed the wick and voila! My old candle jar instantly got a second lease on life. I can't neglect to mention how extraordinary this coconut-based wax smelled. The concentrated floral aroma, rounded out by a hint of citrus, was enough to make my entire bedroom smell divine. Love that for me!
If you've got a candle habit like me, Siblings has plenty of other fabulous scents to choose from. The company also sells its intoxicating scents via a subscription plan: You can sign up to have a new candle kit delivered to your door, which will take 15 percent off the price of each kit (a pretty worthwhile deal if you ask me).
All in all, Siblings was a great way to dip my toe into the DIY waters, and I'm happy to report that no sinks were clogged in the process.