The Buttery-Soft Duvet We Love to Use All Year Round Is 20% Off Now
We
independently
select these products—if you buy from one of our links, we may earn a commission. All prices were accurate at the time of publishing.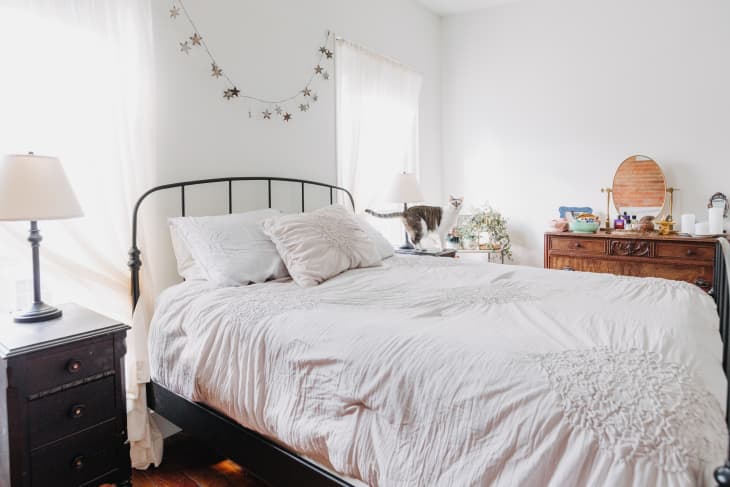 Duvets are one of the least understood pieces of any bedding setup. From the outside, they can appear to be extremely simple. But like your mattress, on the inside they can quickly become much more complicated. Duvets can be constructed with baffle boxes or with box stitching. They can be filled with down feathers, synthetic microfibers, or even wool. And depending on its thickness and breathability, a duvet that keeps you cozy in the winter may not be able to stay cool during the summer. (Does that mean you need to own two duvets? Thankfully, no!)
While it's not easy to find a good, all-around duvet that you don't have to think too much about is hard, we came across one that we recommend to everyone. This duvet is made from an extremely lightweight and breathable fabric that comes from eucalyptus plants, and right now you can get it at a great discount. SIJO's AiryWeight Eucalyptus Comforter is part of the brand's Sleep Week Sale (which is going on until March 18), where you can score 20 percent off everything on their site. Grab one while you can — it's the easiest duvet decision you can make.
SIJO is known for using TENCEL Lyocell fabric in their bedding essentials, including their duvet insert, which uses it both in the exterior cover and as the internal filling. The hypoallergenic fabric is derived from eucalyptus wood and is certified sustainable by the Forest Stewardship Council. Compared to cotton, this fabric is more breathable, better at wicking away moisture, and has a noticeably smooth silk-like texture, which all add up to a duvet that you'll love to use every night of the year.
When our contributor Jasmine Grant tested this duvet, she found it to strike an ideal balance between keeping her cozy and making sure she didn't overheat. "This duvet insert was immaculately airy," Jasmine wrote. "The soft eucalyptus material felt soothing against my skin, and the fibers seemed to let just enough air circulate as I rested." She also noted that it maintained its smooth texture after a cycle in the washing machine and didn't lose any filling, which may make you want to stay in bed longer in the mornings. "I seriously have a hard time parting with this duvet each morning, because it's just that darn cozy," Jasmine wrote.
In addition to their duvet insert, SIJO's other products also do a great job of upgrading your sleep sanctuary. Check out their waterproof mattress protector (it helps extend the life of your mattress), and their TempTune Comforter, which uses mica nylon to regulate body temperature even better than TENCEL™ Lyocell alone. All of these bedding essentials help you rest more comfortably, and because they're all on sale this week, now is the best time to shop.