The Sweet and Silly Term That's Gotten My Kids Actually Excited to Clean
We independently select these products—if you buy from one of our links, we may earn a commission. All prices were accurate at the time of publishing.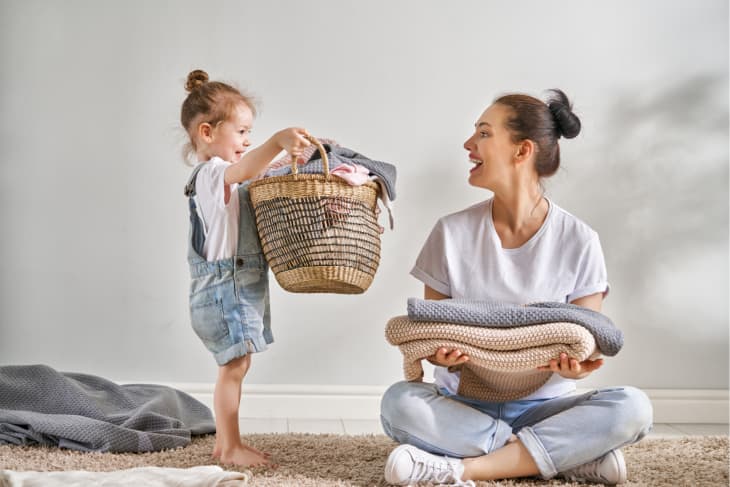 In another life, I taught preteens and teens for 10 years, and learned one valuable lesson that carried over into parenting: silliness wins overall. Trying to get a kid to do a standardized test? Silliness. Trying to get a toddler to use the potty? Same thing. So through the course of parenting my four sons under age 7, one common theme arose. Making up words for tasks nobody wanted to do increased buy-in, and in a serious way. Thus, the term "smoosh" was born.
To properly use the word "smoosh" around my kid, you have to make it sound more like "smoooooosh" with your voice going down and then up again, like a Nike swoosh. We make this sound through lots of our chores, and it gets my 3-year-old doing laundry, my 7-year-old doing dishes, and everything in between.
Here are some examples we've been known to say:
"Can you go smoosh these clothes into your drawer?"
"Just smoosh that trash down in the can so we can fit this in there."
"Can you smoosh those blankets to the edges of your bed so it looks like you made your bed?"
"Smoosh this sponge all over these dishes and they will come out sparkly."
It stands for push, wash, move, carry, and quite a few other verbs that are way less interesting than smoosh. But the reason I think it really works is that it conveys a lack of perfection. Asking a 3-year-old to smoosh a load of laundry into his drawers makes him picture just sort of smashing them in there. And that's exactly what he does — but hey, my 3-year-old takes his own laundry down, washes it, and puts it away, so who cares? I strongly believe if I said, "Can you please fold these and line them up in your drawer?" that I'd be met with resistance, whining, and potentially a stand-off, solved by one fictional word. So instead, we smoosh them. 
I remember the moment of frustration that led to the word joining our family vocabulary. I was trying to convince a toddler to shove the laundry in the dryer ("sometime today," I'd impatiently say). That led to shoving the clothes and explaining that you "just smoosh them in!" The word didn't create magical chore adherence all at once. I had to demonstrate quite a bit of smooshing first. I have smooshed many a dish while my kids watched how it's done. I've smooshed the spoons into the dishwasher, the sippy cup lids into their labeled box in the pantry, and a whole box of cereal into its appropriate container. Modeling each of these while using the word, over time, gave it meaning, and the kids wanted to try it. 
But smooshing isn't the only tool we use to get more buy-in from kids to make chores into teamwork. We straight bribe them with allowance or sometimes we just make them do something because we need help (and we are the parents), and other times they miraculously just do a chore because it needs to be done. Silly words are just one of many tools in our parenting toolboxes for cleaning, but definitely the most useful of them all.
What tools do you have in your parenting toolbox that help get your kids excited to cleaning? Share in the comments below.