Before and After: Making a 175-Square-Foot Studio Space Work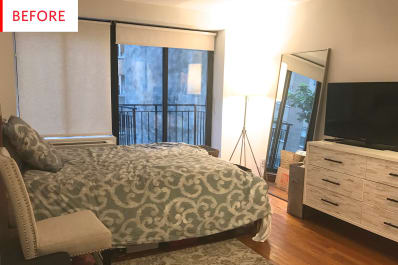 (Image credit: Emily Barry)
A 175-square-foot apartment is a small apartment, but one of our readers has transformed a challenging space overwhelmed by bulky furniture into a serene, seemingly spacious oasis, all for $1,700.
Before we move on to the studio as it is now, here's how reader Emily Barry described it before:
The space had a more utilitarian feel before I moved in; it was basically being used only for sleeping, and didn't feature much more than a bed and a TV. The beautiful terrace wasn't being used much, and the large furniture pieces created a bulky environment in the small apartment.
The pre-makeover photo reminds me of motel/hotel rooms, in which basically all usable space is taken up with large furniture.
(Image credit: Emily Barry)
This is so lovely and livable now! Going for a white palette makes the small apartment feel so airy while letting the rainbow of books and the plants on the balcony be the stars. That giant mirror reflects so much light and adds to the feeling of spaciousness, without overwhelming the room.
I wanted to create a few distinct spaces within the apartment, and upgrade the terrace so it could be used as an extension of the home in warmer months. I work from home, so having designated 'sleep,' 'work,' and 'relax' spaces was very important to me; which isn't easy in an apartment so small.
The way the art and rug delineate the living room is so well done, while the mirror and bed anchor the dressing and sleeping areas. (Emily, if you're reading, I'm dying to know if you work at the console table, or if that's your vanity and you work on the couch?) The various rooms are distinct, but the unifying palette and aesthetic allow them to flow into each other.
(Image credit: Emily Barry)
It's all so pretty. I know some readers hate predominantly white decorating, but I love it and think this is an excellent take on it. Yes, most of the elements are white, but just look at the variety of textures: sheepskin stool, velvet cushions, "chunky boucle linen-blend" loveseat, shimmeringly distressed mirror, shag rug, and three throw blankets in various snuggly materials. There's so much coziness happening. Here's how it all came together:
It took me about a month to fully decorate the studio. I had a few pieces from my previous apartment (the desk and large mirrors) but mostly started from scratch as a space so small requires very specific furniture. I got most of my pieces either used or from cheap retailers, and all the furnishings (loveseat, rug, TV stand, bed, patio furniture and decorations) cost about $1,700 total. I did absolutely everything myself.
That is an astonishingly low total for so much furniture and so many accessories! The loveseat is from World Market, the bed and the rug are from Amazon, and the console table, shoe rack/bookcase are floor lamp are from IKEA. (The mirror was from IKEA, too, but it's been discontinued.) This shot also gives us a tease of the apartment's outdoor space . . .
(Image credit: Emily Barry)
This balcony is rather public, but it's a decent size—perhaps large enough for a bistro table and chair(s)?
(Image credit: Emily Barry)
What a sweet little oasis. The balcony is now incredibly inviting and lush, and while it's obviously still within view of all those windows, never underestimate the power of string lights for creating an intimate atmosphere. The outdoor loveseat is from IKEA, as is the flooring, I believe. Emily fit far more out here than I would have thought possible, but it doesn't look crowded.
The space has become a real oasis, a sunny and comfortable home that is completely functional for my lifestyle. I don't miss having more space because the layout works so well, whether I'm working or entertaining. I love the way the plants, books, and plush rug create a cozy atmosphere, while the white color palette and large mirrors keep the space feeling open and bright.
I love Emily's point about this remodel creating a home "completely functional for my lifestyle." It's like when we see spare kitchens short on storage that are absolutely perfect for their non-cooking residents, or beautiful, elaborate kitchens that are just right for cookbook authors and food bloggers. This particular configuration fits Emily just right, which is an amazing feat.
(Image credit: Emily Barry)
This is a really nice studio apartment kitchen. The appliances are new, attractive, and efficient, and the narrow shelves suit the small scale of the room. And that window is such a gift! My last studio had a similar window just to the left of the sink and it made washing dishes a lot more pleasant.
(Image credit: Emily Barry)
I'm pleased to see that the kitchen was merely straightened up rather than gutted. No judgement if that's what Emily had preferred to do, but this kitchen is great as is. The addition of art and plants and the removal of clutter made a huge difference. (Side note: I spot Vegan Cupcakes Take Over The World on the windowsill, and I highly recommend it!) This photo also gives us a chance to see how the studio fits together: that's the left arm of the sofa in the lower-left corner of the photo.
Now that this mini-apartment makeover is complete, Emily has some insight to share:
Don't be afraid of working with a small space! I work in real estate and always tell my clients this; there are always ways to make the apartment work for you, even if they aren't obvious initially. De-cluttering is a huge help, as is making the most of the storage spaces you have (under-bed, closet, cabinet, etc). Find ways to make the most of the sunlight you get, and find a way to create separate living and sleeping spaces no matter how small the apartment is.
Thank you, Emily!