A 650-Square-Foot Loft Has Bold Colors, Great Views, and a $150 Black & White Bathroom Refresh
We independently select these products—if you buy from one of our links, we may earn a commission. All prices were accurate at the time of publishing.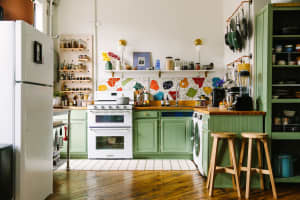 Can't-Miss House Tours Straight to Your Inbox
Keep up with our latest house tours each weekday with our House Tour of the Day newsletter
Name: Jennifer Scanland and Chantillee Joy, or "Tilly," my rescue Pomeranian who came into my life and saved it shortly after my mom passed in 2018. In return I am helping her live her best dog life.
Location: Edgewater — Chicago, Illinois
Type of home: High Rise Condo
Size: 650 square feet
Years lived in: 1 year, owned
Tell us a little (or a lot) about your home and the people who live there: This condo is my first and I bought it nine days before my 50th birthday. It is in a mid-century high-rise building and I am on the 35th floor with an unobstructed western view of the city and the glorious sunsets, hence the name I've given the condo, "Palazzo dei Tramonti," which is "Palace of the Sunsets" in Italian. The previous owner had a very country/farmhouse aesthetic, which couldn't be further from my own style. It was decorated in varying tones of white and I couldn't wait to get in here and inject some life and color! I have made drastic color changes to every "room/area" except the kitchen… which is getting a full renovation later this year. The whole thing has been a slow and fun process, and I definitely have "condo-itis," which is the ever changing list of projects and ideas on how I want to change things.
Describe your home's style in 5 words or less: WOW, LOOK AT THAT VIEW! Ha! Kidding. I like to call it Regency Modern on a Budget.
What is your favorite room and why? Well it's technically only one room, so you're never very far from another… and I just love it all. But I guess if I had to pick one, I'd say the entryway. I wanted it to have a real wow factor. I wanted it to be your teaser to what was to come in the rest of the home. So I painted it dark teal with gold accents for real BAM! The gallery wall happened spontaneously because the wall just kept looking so bare, so I collected a bunch of gold frames and mirrors and printed sunset scenes from around the world, and sprinkled in some mirrors and graphic images and travel-centric phrases on the wall and the table. The table was gifted from my good friends. I didn't actually think I would use it there, and I may move it when the kitchen is redone, but for now it really works.
I swapped out the ceiling light fixture, which was a sad little "vintage" mini chandelier that hung down way too low but even still was too small for the space, and did you no favors in actually lighting the space. Plus I hated that anyone 6 feet or taller had to duck when they came in the door. I never want anyone to feel any kind of discomfort when they come into my home. So I swapped out that sad little thing for a crystal semi-flush mount stunner! But mostly from the entry you get a view of the whole space. You see the lush velvet, the glowing copper pendant light, the sparkle of the bar cart, and the view out the windows… and you are just so drawn into the space and want to explore and lounge and have a drink and just do all the things! So yah… the entryway.
What's the last thing you bought (or found!) for your home? PAINT! I finally painted the main wall in the living room. It is the most interesting pale purple that changes from lilac to gray to greige and back to purple again all in a day. It's so chic and it makes me smile! It's "Veiled Violet" from Sherwin-Williams.
Any advice for creating a home you love? Everyone says it, but it's true… take your time. It doesn't have to be 100% decorated and perfect immediately after moving in. Also, don't worry about someone else's design "rules." This is your chance to be the curator of everything. So have things that spark your joy, don't worry about the trends, or what's on Pinterest, or what the celebs are doing. Curate your own life!
This submission's responses were edited for length and clarity.