Got a Patio or Small Yard? Grow Zucchini in Your Tiny Victory Garden
We
independently
select these products—if you buy from one of our links, we may earn a commission. All prices were accurate at the time of publishing.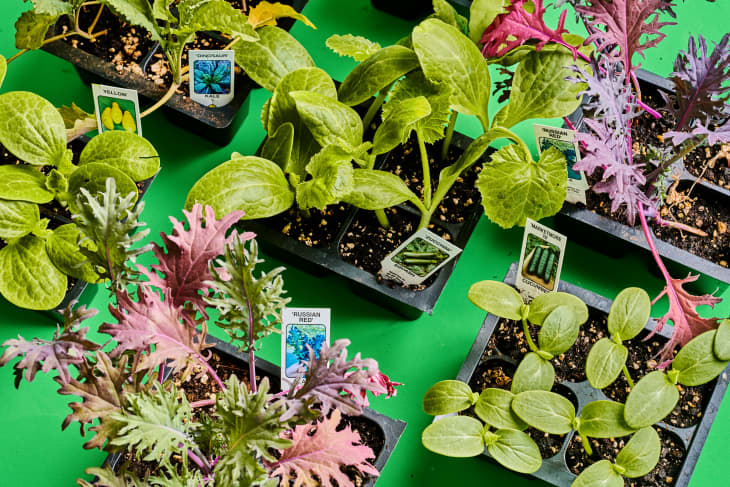 You've already assessed your space and gathered your supplies, and now you're ready to plant your tiny victory garden. If you're lucky enough to have outdoors space, and you're itching to make the most of it, you have a lot of options, even if said space is just a few square feet of raised bed. (Trust me: you can do a lot in a few square feet.) 
For gardeners working with shadier spaces, stick with the advice of Maureen O'Brien, a community garden educator at Brooklyn Botanic Garden, and go for greens, which only need about 4 to 6 hours of sunlight a day. With a little more space, you can add bigger, sturdier, hardy options like chard and kale to the mix—their deeper root systems aren't quite as container-friendly as lettuce and spinach, but in either a large, deep pot or a small raised bed, they'll likely thrive. If you have an abundance of kale seeds and a little less room to work with, you can sow the seeds more densely and harvest the kale as microgreens or baby leaves—perfect for salads, garnishes, and smoothies, without taking up very much space at all. 
Blessed with a backyard or patio and full sun? Lucky you: with both space and sun on your side, you have a lot of options, and you can try your hand at any number of fruiting vegetables, from beans to cucumbers to corn. But one particularly great choice to start with might be zucchini, which often produce famously high yields, can thrive in a number of climate conditions, and do well in roomy containers as well as raised beds. Bush-type zucchini will grow in compact bushes rather than sprawling vines, which makes them a better choice for a small area. Plus, you can eat the flowers any number of ways, including stuffed with cheese and fried. Gotta love a plant that multi-tasks. 
Again, unless you're working with a truly large space, it may be best to concentrate on dwarf varieties bred for containers, even if you do have a bed. "Using a container variety, even for a raised bed, makes things a little more manageable," says O'Brien, "rather than enormous zucchinis taking over your whole bed because they need room to ramble." 
Here's some additional good news: Any of the aforementioned plants in this series are perfect for a small yard or patio, too. If you'd rather keep it simple with a few potted herbs than learn the ins and outs of tomato care, that's perfectly fine. The most important thing is that you like what you're gardening—if a bowl of fresh, crispy, Caesar-drizzled little gem lettuce sounds ten times more appealing to you than a bumper crop of zucchini, then just stick with the lettuce, even if you have space for something bigger. Your tiny victory garden will feel so much more rewarding (and easier to take care of) when you're actually enjoying the literal fruits of your labor.
A Shopping List for a Tiny Backyard Victory Garden
Where to Buy Zucchini Seeds