Before and After: From Creepy Attic to Functional Home Office for Two
We
independently
select these products—if you buy from one of our links, we may earn a commission. All prices were accurate at the time of publishing.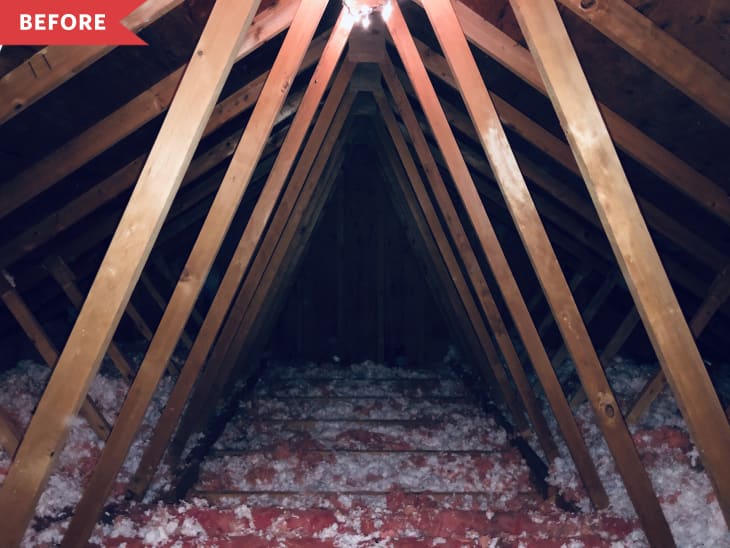 Squeezing one office space into a home is tricky enough; when you have two people working from home indefinitely, you have to get creative.
For four months, Kris McDonald and his wife both crowded around the dining room table to work from home. It was, as he says, "no longer working." But when his wife put in an order for a new desk to call her own, they both realized that they didn't actually have a place to put it—yet.
The unfinished attic in their home was sitting empty, so Kris drew up plans to turn it into a small "Jack and Jill" office space that would give them each a desk on opposite sides of the room. That way, they'd have their own space and would be able to retreat to their living areas in off-hours.
Kris took on most of the work himself, adding insulation, windows, flooring, drywall, and shiplap. Painting the walls and beams white makes the attic feel bigger and brighter, which is helpful in such a small space. He added a built-in desk at each end of the attic, and added a shelf to each side of the room for storage.
Kris took on the project in the middle of summer to be able to finish it by fall, when work got busier for the couple. But that meant that he was working in an uninsulated, un-air conditioned attic space for the first part of the project, before he could connect the attic to the house's HVAC system. "I worked on it just about every morning for the first half of the project because I needed to get insulation in and the windows finished before I could tap into the HVAC ducting," Kris says.
After that, the work was much more comfortable—and in total, took about seven weeks. The cost for the project came in just shy of $4,000. "I love that we basically added a third floor to the house," Kris says. "Now we can leave our work at work again (kinda) and use our dining table for eating at rather than having it covered with laptops, cell phones, and charging cables."

Inspired? Submit your own project here.