See Why a New York Apartment Has Cheese Boards in the Bathroom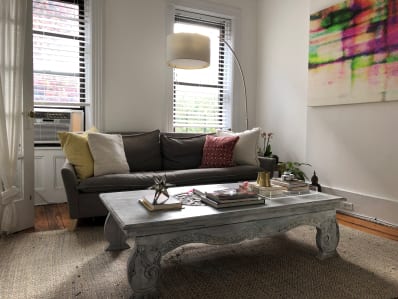 (Image credit: Laura Merle)
Name: Laura Merle
Location: West Village — New York, New York
Size: Around 500 square feet
Years lived in: 3 years, renting
I love my apartment. It's old. It's a bit run-down. And it has almost all the New York charm you can possibly hope for (I sadly don't have a fireplace...). I rented the place on a bit of a whim: A bad day at work meant that I was procrastinating online and found a listing for a two-bedroom place in the West Village for a not insane amount. "Obviously fake. Or gone," I thought, but rather than emailing the agent I called him and to my surprise the apartment was not only still available, but had just been dropped a couple hundred below the listed price. I enlisted a friend to go check it out that evening, "Because if he wants to kill us, at least there'll be two of us to fight him off."
UPDATE — Laura sent the products she used for the cheeseboard shelves:
The unit was exactly what the pictures showed: pre war, original hardwood floors, a bathroom and kitchen that were renovated at least 40 years ago, a living room with an open view of trees in the summer (and the Freedom Tower when the leaves fall), and an incredible amount of light. It's not large, but it works perfectly for me, and having a real extra bedroom (albeit tiny) is a lifesaver when friends and family visit.
(Image credit: Laura Merle)
Style-wise, I would say it's a bit eclectic: My living room has a coffee table that's this heavy, carved Thai wooden piece, and right next to it I have a bone-colored leather armchair with chrome legs and an abstract painting in neon colors. And I've been eyeing some pieces by a couple of street artists I love that I want to add to the space.
(Image credit: Laura Merle)
In the nearly three years I've been living here I've made the place as much my own as I could, even doing a renter-friendly bathroom remodel that included replacing the ugly medicine cabinet with a round mirror, putting up a bold peel-and-stick wallpaper, and creating shelving with cast-iron brackets and marble cheese boards (because they were the right size and so much cheaper than marble shelves!).
(Image credit: Laura Merle)
Next project may be the kitchen. I've been dreaming of painting the ugly honey-colored cabinets something cool. In the meantime, I've added some open shelving to help with the nonexistent storage, some rugs to distract from the bad linoleum, and a bright and happy Gray Malin photograph that makes me smile every time I walk by.
(Image credit: Laura Merle)
Describe your home's style in 5 words or less: Relaxed, eclectic, unexpected, peaceful, welcoming.
What is your favorite room and why? Oddly enough my bathroom. I'm quite proud of my DIY mini-remodel.
(Image credit: Laura Merle)
What's the last thing you bought (or found!) for your home? Plants, plants, so many plants! I've become a budding plant-lady. I went from having a Chinese money tree and a couple orchids to having a small jungle that keeps growing. While on the subject, huge thanks to Hilton Carter for helping me save my variegated rubber tree. It was overwatering after all!
(Image credit: Laura Merle)
Any advice for creating a home you love? Mix it up. Add some unexpected things, whether it's pillows in a surprising color, trinkets from your travels or that neon-colored painting you love but in theory should not match those fringed Moroccan poufs you kind of have to have.
Thanks, Laura!
• Interested in sharing your home with Apartment Therapy? Contact the editors through our House Tour & House Call Submission Form.