This Teeny 250-Square-Foot L.A. Studio Feels So Much Larger
We
independently
select these products—if you buy from one of our links, we may earn a commission. All prices were accurate at the time of publishing.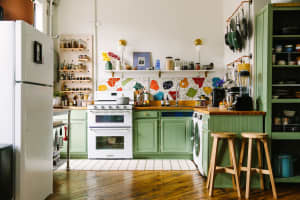 Can't-Miss House Tours Straight to Your Inbox
Keep up with our latest house tours each weekday with our House Tour of the Day newsletter
Name: Rebecca Taylor
Location: Los Feliz — Los Angeles, California
Size: 250 square feet
Years lived in: 2 years, rented
As a personal chef for yoga retreats, Rebecca Taylor travels a lot. She blogs and Instagrams about her travel experiences by sharing colorful food recipes and little snippets of beautiful spaces abroad. And when it comes to designing a home, she believes that "authenticity and personality" are essential. "It has to be livable, not a model home where things can't be touched. My place inspires me and reminds me of the artistic, thrifty, and spiritual lady I am."
Rebecca prides herself on furnishing her little abode with thrifty finds and collected pieces from abroad. She loves to hunt for fabrics, artwork, and anything that makes her dwelling feel peaceful. Every single thing she brings into her tiny space has significance, especially "all of the art and wall hangings." She notes that they "are pretty special. I'll say again how meaningful it is to have pieces that reflect experience. I made a lot of the wall art from driftwood with my best friend and her mom. My mom is 3,000 miles away, but she's gifted me a lot of what's hanging on the walls."
Living in only 250 square feet has forced her to embrace conserving space, organization, and appreciation for her outdoor spaces. She has turned her little private deck into an incredible outdoor living room. To have access to indoor and outdoor space, in a city where you can use it mostly all year round, is such a joy for Rebecca. Living in L.A. itself has played a major role in her home.
"I can't say enough about it. I've always been a thrifter, but man! L.A. has some of the best Goodwills and secondhand stores I've ever seen. People from all walks of life are constantly coming and going, parting with their stuff and letting it live on. I've traveled a lot and I find things that remind me of those travels all over the place in L.A."
Apartment Therapy Survey:
My Inspiration: Solo traveling through Morocco and Indonesia, but also just wandering through thrift stores and finding something I love. It all comes together because it's me. I love texture, plants, and natural light.
Favorite Element: My outdoor space; I mean look at it. I'm so lucky to have this little nook and live in Los Angeles. When I saw the studio empty, I knew this would be a second room and saw much more than a studio, even though my rent is the price of a studio.
Biggest Challenge: My bachelorette kitchen. I'm a chef who cooks every meal at home and photographs my food daily. I now have a mini fridge, a single countertop with electric burners, and a convection oven. My microwave didn't even make it in the kitchen; it's in my closet, but it works for me. I've embraced having less space and it is possible. I found a little fold-up table on the curb and gave it some TLC, which is an adorable accent piece and extra counter space. I now shop smarter, because I only buy what I need. If I find a must-have dish or glassware at the thrift store, I make sure to get rid of something old so there's space. It's taught me balance and that passion for cooking will outweigh any hurdle.

What Friends Say: "Oh my gosh, you've turned 250 square feet into so many distinct areas, how did you do it?" "It's so zen here, I always feel so relaxed in your space." They ask where they should buy decor and I always tell them you have to know what type of space you want to create and it doesn't matter where you shop, you'll find things all the time that speak to you and reflect your personality.
Biggest Embarrassment: My neighbor has good taste, so when I saw her throwing out a nice flat-woven rug, I knew I was going to grab it. I inspected it, and as I imagined it was in great shape. That's one thing that gets me. If you're over a rug, sell it or bring it to Goodwill; someone like me would love to have it. But yes, I stole my neighbor's old rug out of the trash, which makes me a dumpster diver technically, right?
Proudest DIY: So much of what's in this apartment has just come to me. I told a friend I was looking for a little dresser for an awkward nook in my apartment and a few days later she snapped a pic of what looked to be the perfect size piece from none other than Goodwill. It was $10 and fit the space like a glove. We had Prosecco while sanding and repainting it and it'll always remind me of Sara.
Biggest Indulgence: I knew since the space was so small I needed to start by bringing in only the things I needed. Once that was done, I started to design around it. Nothing in this apartment is indulgent or expensive because I've let everything find its place. I spend less on "things" so I can go out and treat myself to travel, experience, and fancy dinners with nice wine.
Best Advice: Look around you, and trust that you know what type of space you want to create. This is where you wake up every morning and start your day, so make it a sanctuary that reflects you. My place is filled with things I've gotten along my travels, gifts like my dresser and accent chair remind me of people I love, and no one approved any decision I made about design. I think people love it because you see a person, it has a personality, and it's mine. Find your personality through design and don't let small quirks discourage you, work with them and put a clothing rack in front of your not-so-sightly air-conditioning unit.