This Tiny 225-Square-Foot Studio Apartment Is Full of the Most Genius Storage Solutions
We independently select these products—if you buy from one of our links, we may earn a commission. All prices were accurate at the time of publishing.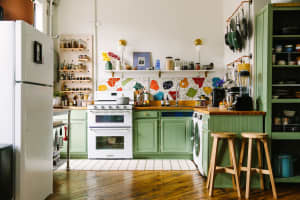 Can't-Miss House Tours Straight to Your Inbox
Keep up with our latest house tours each weekday with our House Tour of the Day newsletter
Name: Whitney Thayne and Rorschach (Rory) the cat
Location: Brooklyn Heights — Brooklyn, NY
Size: 225 square feet
Years lived in: 3.5 years, renting
Whitney Thayne and her teeny 225-square-foot were featured on Apartment Therapy as a house call earlier this year, but it simply wasn't a long enough look. Though it's a small studio, it doesn't feel cramped at all, thanks to the clean, all-white color scheme. But her rental apartment is also a successful living space because of all of her smart organizing ideas.
"I've always been a fan of creatively using organization to make the impossible happen," Whitney wrote. "At 225 square feet, this apartment has been one of my 'biggest' challenges, and has more or less felt like life-size Tetris. Truly, the smaller the space, the more you have to dream up space-specific techniques to function. But my tortoiseshell cat Rorschach ("Rory") and I have made this space our nest, a retreat from whatever New York throws at you from one day to the next."
Apartment Therapy Survey:
My Style: Curated vintage balanced with modern minimalism.
Inspiration: Anything created by my favorite photographer Jamie Beck, great art direction in films, traveling the world, nature, Apartment Therapy, and the omniscient Pinterest home design algorithm.
Favorite Element: My 'dresser' wall I built in with IKEA Trones. It had to be a cohesive, intentional unit, so the eye would move as it should for being the featured wall.
Biggest Challenge: Space and light. If you haven't noticed, it's a pretty minuscule space. As far as classic 'my tiny New York apartment' lines go, I'm able to buzz someone into my building and open my front door for them without leaving my bed. And as a person who truly adores my possessions (try as I might to be a minimalist), it has been a real challenge to make the space functional and not feel like a storage unit. I've always called it my 'life-sized Tetris' experiment. The lack of light can also be difficult, due to this being a garden level apartment. This is why I've kept everything as bright as possible, to have something for natural light to reflect off of instead of absorb.
What Friends Say: "Where is the rest of it?" and, "It's so cute and cozy!"
Biggest Embarrassment: If only a couple of items are out of place, the space can look messy very easily.
Proudest DIY: Organization! The only way to function in a space like this is to get really creative with how and where things are placed. Built-ins are your friend. Learning how to maximize and find the exact thing that will work is ultimately worth it. For instance:
I have the tall clear Container Store bins under my bed because they perfectly fit under the frame, and they are all designated to different categories (files, cat supplies, spare bedding, sewing supplies, etc.).
I own an accordion drying rack that hangs on hooks in the shower. It was the only place for it, but it works beautifully.
My workout gear and recycling go in wine crates under the couch, and my computer is in a mounted acrylic magazine rack to the side, so it's virtually invisible.
The fire extinguisher and oven mitts are mounted under the folding IKEA counter, where they're only visible if standing in front of the stove.
The tissue box is gaffe taped to the wall next to the bed, an old theater trick.
Headboard DIY: I bought oversized pillows from Marshall's, stitched ribbon onto two corners of each, and tied them to little hooks I had screwed into the wall. Voila—soft,
washable headboard.
Rory's food and toy boxes are actually IKEA litter boxes. They're low profile, affordable, and more or less blend in.
DVDs / Blu-Ray discs are in plastic sleeves and sorted into sewing pattern boxes.
Every door is used for organization in some capacity. The clothes closet has a mirror on one side, hooks and an IKEA Trone mounted on the other for scarves. The linen closet has a Container Store hanging organizer mounted for vacuum parts, cat supplies, reusable bags, and laundry supplies. The bathroom door has a hook and bar for towels, as well as a basket for a scale, books, etc. This even applies to cabinets–spice racks, pan lids, measuring spoons, cutting board are all on the inside of kitchen cabinet doors. My 'garbage can' in the kitchen is a hanging cabinet door basket that I line with grocery bags; the spares are stored in a Lululemon bag I attached underneath the basket.
It's a process; not everything comes to you at once. But you discover spaces as you go that can be used for more than they're given credit.
Biggest Indulgence: Allowing myself to have as many clothes as I do. It's a passion and my profession, so trying to narrow down a wardrobe can be difficult for me.
Best Advice: "Buy once, cry once" is a an important saying for me. I really don't have the space to buy something that doesn't function perfectly and shove it in the back of a closet to be forgotten. So if I buy something, it should be an item of quality as well as aesthetic. It has also encouraged me to look at gift giving and receiving differently. We have such a wasteful economy; doing what you can to have that exchange be focused on time together, experiences, or what is genuinely needed / loved helps build stronger bonds with loved ones as well.
Dream Sources: CB2, West Elm, Anthropologie, Design Within Reach, Etsy, Crate & Barrel, Domino, Food 52, Everygirl, The Container Store, The Citizenry, and any great antique shop.
Sutton Sofette — West Elm
Throw Pillows — CB2, Anthropologie
Kiba Throw Blanket — Anthropologie
Knitted Graphite Pouf — CB2
Acrylic Nesting Side Tables (Vintage) — Craigslist
Hoop Mirror — Anthropologie
Ekby Lerberg Shelf Bracket — IKEA
Vintage Folding Chair — Antique Market
Antique Brass Small Mobile Chandelier — West Elm
Trones Storage Cabinet — IKEA
Drawer Organizers (In Trones) — IKEA
Acrylic Stacking Jewelry Organizer — The Container Store
Gold Faux Antler Wall Rack — White Faux Taxidermy
Emily Isabella Boudoir Nude Print — Anthropologie
Chéret L'Arc En Ciel Antique Print — Antique Market in Crown Heights
Matilda Curtains — IKEA
Ceramic Wall Planter — CB2
Black and White Resin Skeletal Painting — Original by Uta Brauser
SmartCat Cat Climber — Amazon
SmartCat Cat Scratcher — Amazon
White Cat Tray — IKEA
Portrait Mirror — Antique Family Piece
Skold Sheepskin Rug — IKEA
Plug-In Pendant Light Cord in Silicone — Color Cord Company
Bamboo Stacking Shelf — The Container Store
Elfa Wire Utility Door Rack — The Container Store
DVD Sleeves — Amazon
Sewing Pattern Organizer (For DVDs) — Annie's Craft Store
Bjursta Wall-Mouted Drop-Leaf Table — IKEA
Botkyrka Wall Shelf — IKEA
Iridescent Coupé Glasses (Vintage 1940s) — Stoop Sale in Park Slope
Altuzarra x Neiman Marcus for Target Tumblers & Shaker — Amazon
Glass Bedside Carafe & Glass — Anthropologie
Summer White Mug — Caskata
Stemless Wine Glass — Crate & Barrel
Tour Highball Glass — Crate & Barrel
Ginger Vase — Antique Family Piece
Wine Rack — CB2
Wooden Utensil Organizer — Anthropologie
Serving Platter — Anthropologie
Farmhouse Pottery Utensil Pitcher — West Elm
Schmidt Brothers Acacia Magnetic Wall Bar — Crate & Barrel
Citronsyra Plant Pot — IKEA
Gold Dish Rack — CB2
Drying Mat — OXO
Vinyl Cabinet Covers — Amazon
Gold Dot Decals — Amazon
Dial Kitchen Timer — Muji
Juniper the Fox Paw Press Painting — Etsy
Cabinet Door Basket ('Trash Bin') — Amazon
'Goodnight' Wire Script Sculpture — Anthropologie
Various Art Above Bed — Antique Markets
Ribbed Blanket — West Elm
Shams — West Elm
Pillow 'Headboard' — Marshall's
280-Thread-Count Pima Cotton Percale Sheet Set — L.L.Bean
Geometric Gold Lamp — Crate and Kids
Honeycomb Bowl — Anthropologie
Flip-In Laundry Hamper — OXO
Drop-Front Shoe Box — The Container Store
Jumbo Box (For Underbed Storage) — The Container Store
The Spherical Bear Print by Marc Johns — Society6
Friendly Bear Print by Sarajea — Society6
Brass Wall Clock — Target
Acrylic Wall Shelves — The Container Store
Toilet Brush and Plunger Combo — OXO
Wire Lady Wall Sculpture — Finders Keepers Market in Melbourne, AU
Romantic Floral Scarf Shower Curtain — Urban Outfitters
Scrap Teak Mat — VivaTerra
Macy's Hotel Collection Towels — Macy's
3-Tier Shower Caddy — OXO
2-Drawer Mesh Organizer — The Container Store
3M Command Clear Caddies — The Container Store