17 Clever Ways Your Smart Watch Can Make Your Life Easier, According to Chefs, Dietitians, Gym Instructors, and More
We independently select these products—if you buy from one of our links, we may earn a commission. All prices were accurate at the time of publishing.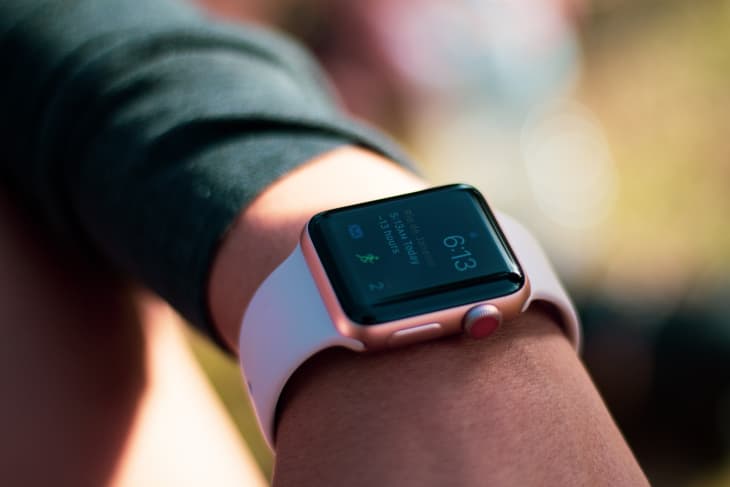 An Apple Watch has many great functions right out of the box: It can send you reminders, track your steps, read and send messages, take phone calls from your wrist, and, of course, tell time (to name a few). But there are functions you might be overlooking or that you just haven't downloaded yet that can help you in your day-to-day life, from your kitchen to your yoga mat to your bed and beyond.
Here are 17 smart but simple ways to get the most out of your Apple Watch based on your daily routine, according to experts.
Know more about your body
Crunch Fitness instructor Brandon Hirose told Well + Good that knowing your VO2 max, which the Apple Watch measures, can help you understand your capacity for aerobic workouts — plus, you can watch it improve over time.
Tailor your watch to your workouts
Apple's free workout app tracks indoor and outdoor walks, indoor and outdoor runs, elliptical workouts, rowing workouts, and pool and open-water swims. You can participate in instructor-led classes by subscribing to Fitness+, or you can upgrade your watch to be more comparable to a Garmin or Polar Vantage watch by downloading apps such as WorkOutDoors, according to Coach Mag.
Share your workouts 
Wellness writer Kells McPhillips praised the Apple Watch for its function that lets you share your workouts with other Apple Watch users and motivate one another to achieve a certain amount of steps each day.
Use your watch as a wallet
If you have Apple Pay set up, you can double click the side scroller button on your Apple Watch and hold it near a store's card reader for a contact-free transaction.
Create and track your budget
Some banks, like CitiBank, have apps where you can track your checking or savings account balance right from your watch. (Bye, accidental overdrafts!) There are also apps such as Mint that connect with most bank accounts, and budgeting apps like Pennies that let you create one-off budgets and track your spending.
Watch your stock
You can use the Stocks app on Apple Watch to follow the market and customize your portfolio. Apps like Robinhood and Thinkorswim also offer stock tracking and budget tracking, plus access to relevant articles and tools.
Keep your hands free
Bloggers Jonathan Kim and Gabriela Garcia have both praised the Apple Watch because, as parents, they don't always have the time (or free hands) to pick up the phone. "​​With the Apple Watch, when I get an email or text message, the watch gently vibrates to alert me," Garcia wrote for The Everymom. "I can check the message and respond with an auto-reply or I can voice my response. And that's that. Since the screen is so small, it doesn't make sense to open up the apps to scroll through social media or anything else. So, I don't."
Use your watch as a baby monitor
Some baby monitors, such as Cloud Baby Monitor, have Apple Watch interfaces so you can check on your little one just by looking at your watch.
Keep in touch with your too-young-for-a-cell-phone kiddo
If you're not quite ready to buy your kid their own phone, Apple's Family Setup lets you set up a watch for your child via your iPhone, so you can message and voice call with them, and even set activity goals and reminders for them. Plus, you can monitor the messages and voice calls they share with others.