This $4 Grocery Store Cleaner is Reddit's Favorite Alternative to Bar Keeper's Friend
We
independently
select these products—if you buy from one of our links, we may earn a commission. All prices were accurate at the time of publishing.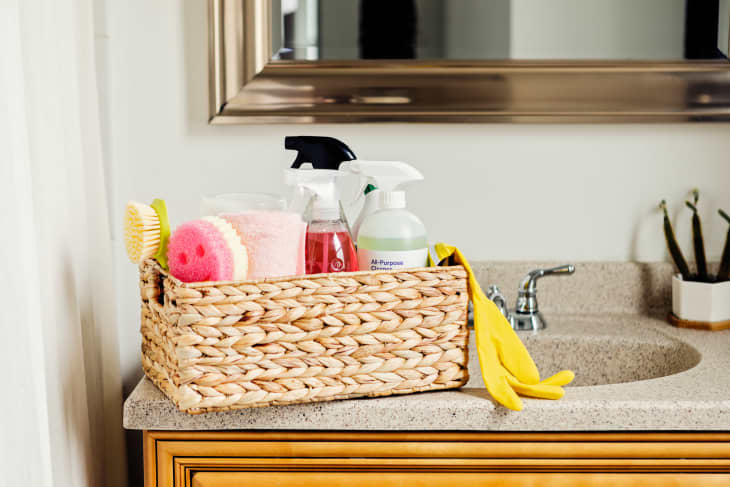 If you've been around Apartment Therapy for any length of time, then you probably know, like the rest of the world, that we're fans of Bar Keeper's Friend. Turns out, so are Reddit's home cleaners, who regularly sing the abrasive cleaner's praises for everything from polishing scratched dishes and flatware to shining up the bathtub and shower. Well, now Reddit's r/CleaningTips has another hot take—and this time, it's an equally effective alternative to BKF.
One Redditor says it's their go-to cleaner for the kitchen sink, counter, and bathroom. They also said that, when diluted with water, Soft Scrub is also great for cleaning walls, doors, and baseboards.
If you dive deep into the Amazon reviews, you'll find lots of diehard fans with great stories about how powerful and easy to use Soft Scrub is. For example, one user with an extremely dirty shower floor reports a tiny amount of the cleaner was enough to take care of the problem, and all with virtually no scrubbing. The oxygen bubbles will do that for you! 
Another 5-star Amazon reviewer says their favorite use is in the bathroom sink, wiping away stuck-on toothpaste from in and around the bowl. No matter how you use it, simply add some water and wipe away (for more stubborn areas, you can use a soft brush to scrub away grime.) As with any cleaner, just make sure to thoroughly rinse, or you could be left with an annoying film on the surface you're trying to clean.
What Makes SoftScrub Cleanser with Oxi Different from Bar Keeper's Friend?
If they both work impeccably on multiple household surfaces, what's the primary difference between the two cleaners? The ingredients! Bar Keeper's Friend is an acidic cleaner, which is great for breaking down corrosion and limescale. But for many cleaning jobs, including ones that deal with fats and oils (like soap scum, which is largely soap and body oil), you'd be better off with a cleaner that has a basic pH value (like Soft Scrub).
That's the main functional benefit of Soft Scrub. There's also a cosmetic one: The original poster on Reddit says Soft Scrub smells a lot better than Bar Keeper's Friend. (Some Amazon reviewers, though, note that Soft Scrub has a strong, lingering fresh smell.) So if you like BKF for its effects but would prefer a fresh scent over a sulfur-y scent, Soft Scrub might be worth a try.