Here's Why I Sent a Solo Holiday Photo Card This Year (And Why You Should, Too)
We
independently
select these products—if you buy from one of our links, we may earn a commission. All prices were accurate at the time of publishing.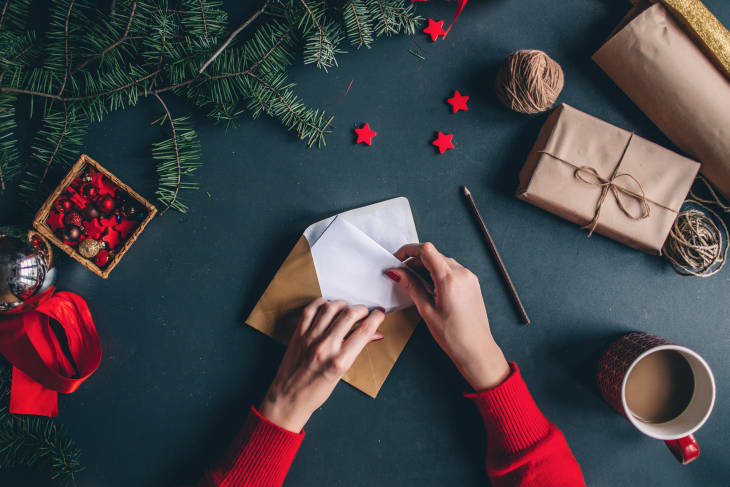 While I love the tradition of sending out holiday and New Year's cards, it's always such a process. Let me preface this by saying: I love receiving photo cards from my friends and family. I get at least 30 and truly enjoy hanging photos of my favorite people around my apartment. And yes, I secretly keep tabs on which friends do and don't use the Oxford comma and apostrophes correctly.
But having no children, no dog, no cat, no new home, or anything truly noteworthy going on that makes sense to turn into a photo card, I typically send out run-of-the mill greeting cards. You know—the kind where you have to actually take out a pen and fill a lot of blank space by writing a personalized message to someone. I know this is very much a trivial "First World" problem, but it always surprises me how much time it actually takes to write something along the lines of this about 50 plus times:
Dear Friend, Spouse, Kid #1, and Kid #2,

Happy Holidays! Wishing you a fabulous season and a joyous New Year. Hope to see you soon.

Yours truly, Gab
Forget about an even deeper level of personalization with recounting a memory from the year or bringing up an inside joke—it's just not going to happen. I just can't help but think every time I open up a photo card with just a salutation and signature, that the time it took to finish that stack of holiday cards is vasty different from my experience. And I know that photo card senders are thinking, "Well, designing it takes a lot of time!" Well, so does finding a cool or fun traditional card that doesn't cost a small fortune.
Luckily, websites like Minted and Shutterfly make it very easy to create a beautiful holiday photo card, and once they arrive at your door, the process is pretty much complete. So this year, I am streamlining my holiday card sending process by sending out a photo card of pictures of me: Two vacation snaps and two holiday-themed photos I've taken in the past few weeks.
The point is, you don't need kids or puppies to cash in on the convenience of sending a photo card. I think my friends and family will get a kick out of hanging pictures of me alongside all the cute kids in our circle. Maybe some friends will think it's a silly, but others will see it as an awesome celebration of self. One friend said it felt very Carrie in "Sex and the City" when she registered for her Manolo Blahniks. (Maybe I will try that next year, too.) And if you need some more last minute holiday or New Year's card inspiration, you've definitely come to the right place. Better late than never when it comes to holiday greetings!