This Sound-Absorbing Armchair Is Designed to Keep You Focused During the Workday
We independently select these products—if you buy from one of our links, we may earn a commission. All prices were accurate at the time of publishing.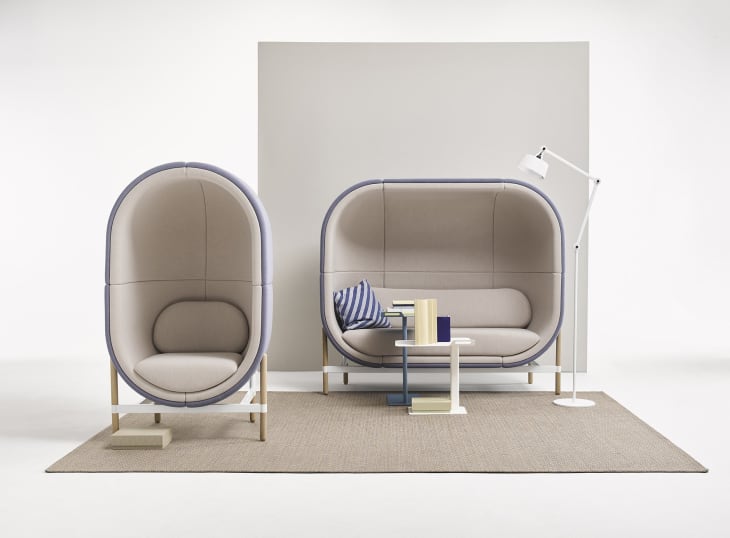 Whether you're working from home or back in a typical office setting, there are many distractions that can keep you from being productive: your co-worker talking on the phone, your dog being adorable, your refrigerator being just a few steps away—the list goes on. The solution? Sound-absorbing, capsule-shaped chairs.
Ukrainian industrial designer Kateryna Sokolova's capsule collection was released last year, and it's gaining new traction as everyone navigates what work environments look like post-COVID. The collection, designed for Casala, includes 1-seater, 2-seater, and multiple seater capsules that offer a feeling of privacy without being completely cut off from your surroundings. They give off a cozy, soft look with minimalist style and a neutral color palette.
"Capsule soft seating collection offers a stylish solution to the increasing need for concentration and privacy in office environments," the design website reads. "In an atmosphere of security, comfort, and innovation you can make phone calls or read without being disturbed."
Designboom detailed that the cocoon-like capsule is lined with acoustic absorbing upholstery both on the inside and outside, thus allowing you to have a phone conversation without distracting others and also diminish the amount of external noises you hear. The capsules also help to reinforce social distancing—an unexpected perk.
Sokolova told designboom, "I am an introvert. I work in a roomy and noisy office, which we share with several other design studios. Sometimes it is difficult to concentrate on a certain work issue because there are many distracting sounds and colleagues' activities." 
Sokolova explained that when she started working remotely because of the pandemic, she was half as productive as usual. "It is too relaxing [at home] and it is difficult to keep yourself together and just start working. The situation, which we have now, pushes us to look for some common solutions to keep social distance, to be concentrated in the office, and switch to [a] working mood at the home office."