The $25 Space-Saving Solution New Parents Need
We
independently
select these products—if you buy from one of our links, we may earn a commission. All prices were accurate at the time of publishing.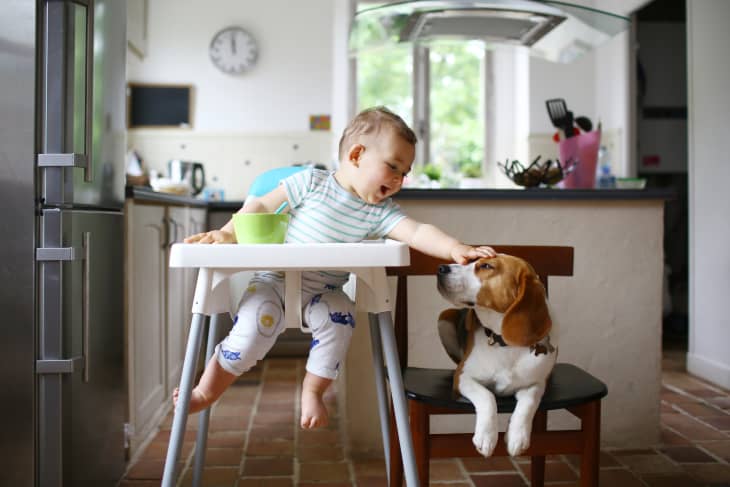 I always knew in theory that babies can come with a lot of stuff (a crib! a high chair!), but I didn't really get it until I had my own baby this year. Suddenly I have a playmat where my coffee table used to live, and piles of baby laundry to trip over in every corner.
Since we planned to stay in our one-bedroom apartment for at least the first six months or so of her life, I tried to be incredibly stringent about what we bought, nixing tons of things on the registry must-have lists. No diaper trash can, no swing (though I was tempted on some fussy days), and no bottle drying rack. I didn't use a drying rack in the before-kid times… I just dried my dishes and put them away. Why would I need one now?!
But as with many things I thought I knew about parenting, I was laugh-out-loud wrong. We're constantly washing bottles, pump parts, and pacifiers (they're like the hair ties of the baby world… where do they all go?!). And I was wasting major counter space with everything strewn about (putting things away? What's that?!).
The beautiful drying rack solutions most of my friends recommended were for seriously spacious kitchens — or, at least, ones in actual houses with more than a couple of rooms. I didn't have that much room to spare if I wanted any surface left for occasionally cooking a meal. So I found this option from Oxo. It fits under my upper cabinets, taking up more vertical space than surface space (a classic small-space solution). I measured, and it truly takes up less than a five-by-twelve stretch of countertop space.
After using it for a few weeks, it's a serious space saver and super efficient. We can fit a whole day's worth of bottles on the hooks, and the little bin on top is perfect for bottle tops and pacifiers.
And apparently I'm not the only one who loves it — it has more than 6,000 5-star ratings on Amazon.
Listen, a half dozen bottles and their various accoutrements are never going to win you a design competition. But if you have to have them out (and boy do I), this is a convenient, reasonably good looking way to do it.