This Innovative Mattress Has a Surprising Feature That Caters to My Sleeping Habits (Bonus: It's On Sale and Comes with Extras!)
We
independently
select these products—if you buy from one of our links, we may earn a commission. All prices were accurate at the time of publishing.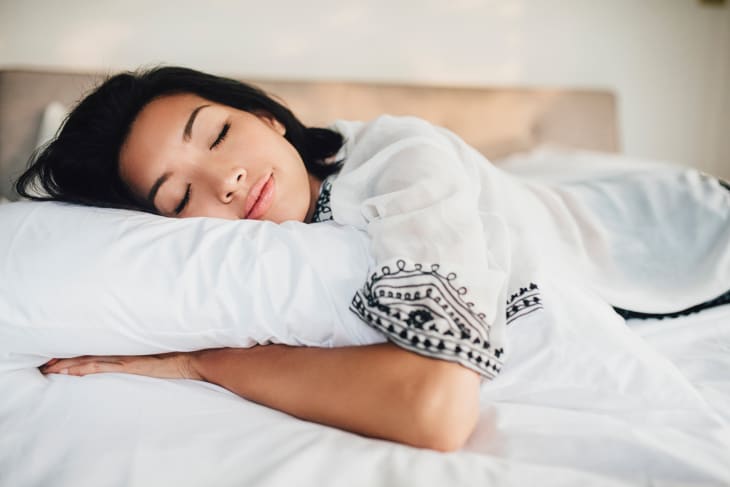 There's always something nerve-wracking about shopping for mattresses online. I'm not saying that the days of going into a store and testing out the feel of a potential bed are long gone, but it's just so much more convenient to click, buy, and have a brand new mattress delivered to your doorstep. All without leaving the comfort of home. The good news is that brands are catching on, and making it easier than ever to buy a mattress online without fear of it not being your right fit. There are very few things in life that are better than a low-stakes online mattress buying experience. How is this mattress shopping relatively stress-free, though? Well this Sparrow Signature Hybrid Mattress from Nest Bedding can be personalized to your sleeping needs. I'm already a huge fan of their Washable Wool Comforter and Easy Breather Pillow, and this customizable hybrid mattress is just another clear example of this brand's forward-thinking.
The Sparrow Signature Hybrid comes rolled and packed into a box that's a convenient size to move in case you need to transport it or take it upstairs. It's still too heavy for one person to carry, but at least navigating it up a flight of stairs won't involve any acrobatics. There are two layers of plastic to get through before the mattress is ready to use: Removing the first layer unrolls the mattress, and removing the second layer allows it to expand to its full glory. From top to bottom, it's apparent that the mattress has two prominent sections as the main body of the mattress sits below a zipped-in topper that actually makes the Sparrow Signature Hybrid Mattress stand out.
What makes the mattress so innovative is that it's easily adjustable! The topper layer can be replaced on all sizes, and even split down the middle on King and California King mattresses, allowing one side of the bed to have a different firmness from the other. So, sharing the bed doesn't mean having to settle for a mattress feel that doesn't suit you. Right now, my Sparrow Mattress has a medium plushness, which has been super cozy to sleep on, but I can already tell that I'll want a firmer layer down the road. Instead of spending a lot of money to replace an entire mattress, which is a downside of built-in pillow tops, I'll only have to pick out a different compatible topper and swap them out — for much cheaper.
Like the Easy Breather Pillow, the Sparrow Signature Hybrid Mattress caters to all types of sleeping habits, which I love as a combination sleeper. It's made with Energex foam, a memory foam-like material that gives you the same cushy feeling without the same lasting impression after sleeping on it for so long. Therefore, even though I might sink into it while sitting, it adjusts nicely to my body when I lay down and accommodates any sleeping position, no matter how much I toss and turn. Another plus is that the individually-wrapped coils keep motion contained to the specifically-affected part of the mattress, preventing any disturbances on my side of the bed, if someone shifts around on the other side of it and vice versa. All of these features combined make for a super comfortable night's rest, so I wake up feeling rested in the morning. It's clear that the mattress was made to last!
Now is the best time to score one a Sparrow Signature Hybrid Mattress for a 20 percent discount and two free add-ons that typically retail for nearly $600 combined. In addition to the mattress, you'll receive the Lifetime Comfort Bundle, which includes two Easy Breather Pillows (I've reviewed one here!) and a one-time Lifetime Renewal Exchange that allows you to change the feel of your mattress with a new topper to increase its lifespan at no additional cost. Nest Bedding's Labor Day Sale includes additional deals on their mattress collection (up to 50 percent off bundles), 20 percent off all bedding, and 10 percent off furniture and bed frames. If you're in the market for a new mattress or an overall bedroom refresh, this is one you don't want to miss.