A Special Letter from the Editor: What Home Means Now
We
independently
select these products—if you buy from one of our links, we may earn a commission. All prices were accurate at the time of publishing.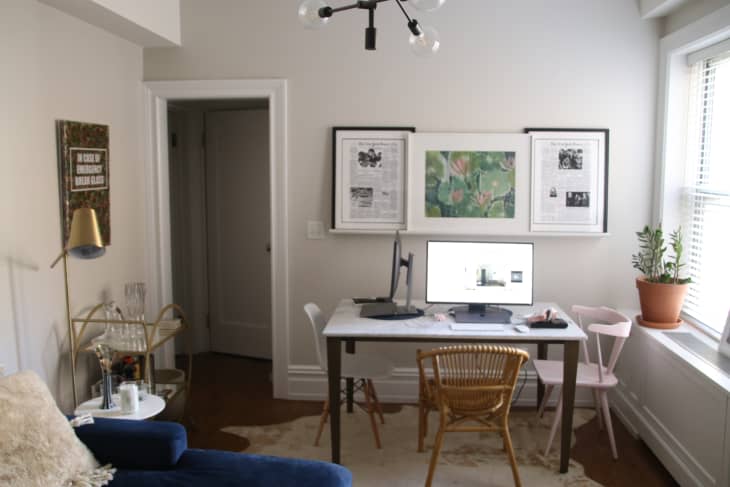 At Apartment Therapy, our mission has always been to help people create safe, comfortable, and supportive homes. But that message has felt especially relevant in the past week, as the COVID-19 outbreaks have upended our habits and rhythms. There are so many uncertainties right now, but there's one thing we know for sure: home is more important than ever. Spending more time at home, a practice that dovetails with what public health scholars call "social distancing," is key to flattening the curve of the outbreak and making sure that hospitals and medical resources remain available to those who need them most. We all have a renewed responsibility to our neighbors and our community, especially the people who are at a higher risk of the outbreak.
Our team has been thinking a lot about what we want and need at home right now: smart cleaning advice, practical coping mechanisms, working from home tips, and sometimes, beautiful distractions. We've gathered a few resources from the Apartment Therapy archive, created some new ones, and asked our sister site, Kitchn, for their best advice as well. We hope you find them as helpful as we have. Please let us know—in the comments, on social media, or by email—what home questions you're facing right now.
I also want to share that Apartment Therapy transitioned to working from home this week (about a third of our editorial staff works remotely all the time, so we were well-poised to make this transition). I read this letter from Serious Eats yesterday, and it sparked me to think through how to communicate some of the same issues we're facing. Like Serious Eats, we'll be doing more at-home photography and readjusting out content calendar. Things we assigned and planned in December, January, and February might be published in March, April, and May. At times, this might seem strange or out of step with what's happening in the larger national conversation. We hope you can save these ideas for use in the future. Our team is also experiencing a lot of the same adjustments and struggles many of you are facing. Along the way, we will share what's working for us and new things we've learned, working to maintain an open conversation with you, our readers, as we go. We write about home every day—so one silver lining is having the opportunity to think about what that means in our own homes rather than a more professional office setting.
Of course, even having this conversation is a privilege itself, when thousands are dying from the disease and millions more don't have homes at all. I've never felt more grateful to have a comfortable home. My hope is that this community can support you in building, maintaining, and appreciating your spaces in the coming months, while not forgetting those who are less fortunate. Looking for a place to start? Donate to your local food bank and support local small businesses where you can.
Here are a few things that are helping me:
Baking. Last night I made The Kitchn's banana bread, and I have enough bananas to make two more for the freezer this weekend—comfort and practicality in one.
Taking social media breaks. I'm trying to balance feeling informed with feeling panicked. I've tried to take at least a couple of hours a day where I don't look at Twitter, the news, or other social platforms. It's made a big difference.
Keeping my routines. It felt abrupt to suddenly start working from home on Thursday. Going to sleep and waking up at the same time every morning has helped. I'm trying not to work all day in my pajamas on the couch, too (though I must confess that hasn't worked all the time).
Making a list of home projects to tackle. I expect I'll be spending a lot more time in my 700 square-foot apartment with my husband over the next few months. One thing that has helped the anticipation of going stir crazy: making a list of organizing and cleaning projects I never seem to have time to get to.
Watching good TV. Distractions help. A few recommendations from my recent binge watching: Love Is Blind, Hart of Dixie, and Parenthood.
Wishing you all health and safety in the coming months.