These Candles Offer An Immersive Experience With Poetry Readings
We
independently
select these products—if you buy from one of our links, we may earn a commission. All prices were accurate at the time of publishing.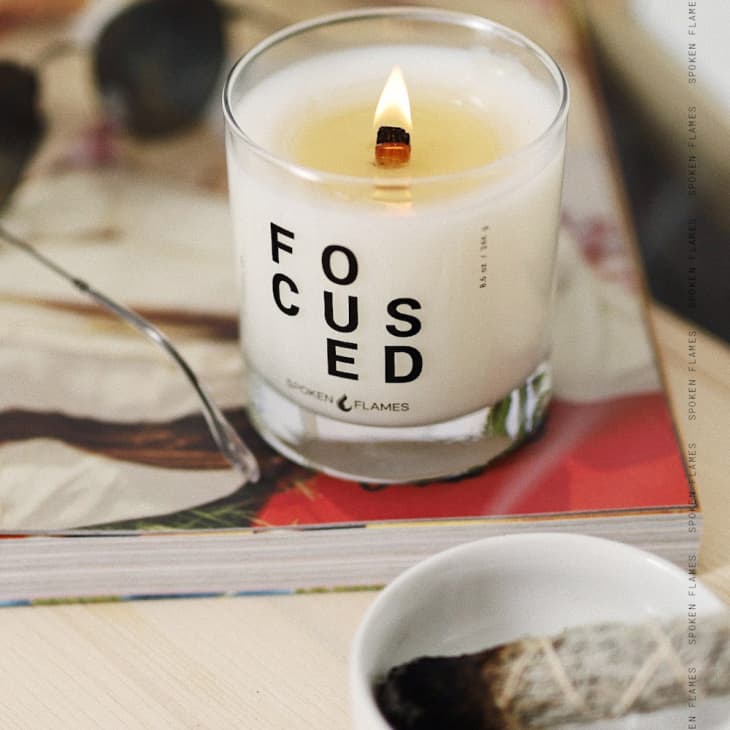 Spoken Flames, a New York-based and female-founded candle brand, is about to change the way you experience candles. The brand has a collection of candles that offers a multisensory experience through spoken word poetry audio. When a candle is burned and captured from the lens of a Spoken Flames Instagram filter (accessible on the brand's Instagram handle @SpokenFlames), a meditative augmented reality experience will follow.
"No more 'light it and forget it' candle moments," Spoken Flames writes of the immersive experience on its site. "We've crafted a multisensory candle experience that will engage your senses of sound, sight, and smell—and transcend reality through a unique and immersive digital experience designed to activate your moment of self-care." 
There are three candle scents that can be purchased as a trio set ($89) or individually ($34 each): Focused, Fearless, and Favored. In addition to its varying scents, each candle has a unique scene, sound, and spoken affirmation. Khalil Houston, a Virginia-based spoken word artist and writer, for example, narrates the Focused candle. Watch Spoken Flames' tutorial below for a preview of the words. 
According to the brand, all candles are made from sustainably and ethically sourced material. The Focused candle has notes of vanilla and sandalwood, plus a hint of eucalyptus to evoke calm and encourage clarity. The Fearless candle has bold fusions of orange peel, clove, and cedarwood to boost your mood so you could take on anything courageously. The Favored candle has floral notes of ylang ylang, jasmine, and geranium to evoke joy and affirm your talent and triumph. 
Spoken Flames founder Shavaun Christian cited the overwhelming stress of clients, deadlines, and, well, just overall life as the inspiration behind the company on the site. "Candles became an important part of a necessary and restorative self-care routine to help combat that overwhelming stress," Christian explained. "Spoken Flames exists to amplify messages that matter and motivate you. It's about manifesting the life you envision for yourself and the world. It's about igniting your actions to achieve your desires."