The Last Cleaning Task to Do This Spring (That Most People Forget About)
We
independently
select these products—if you buy from one of our links, we may earn a commission. All prices were accurate at the time of publishing.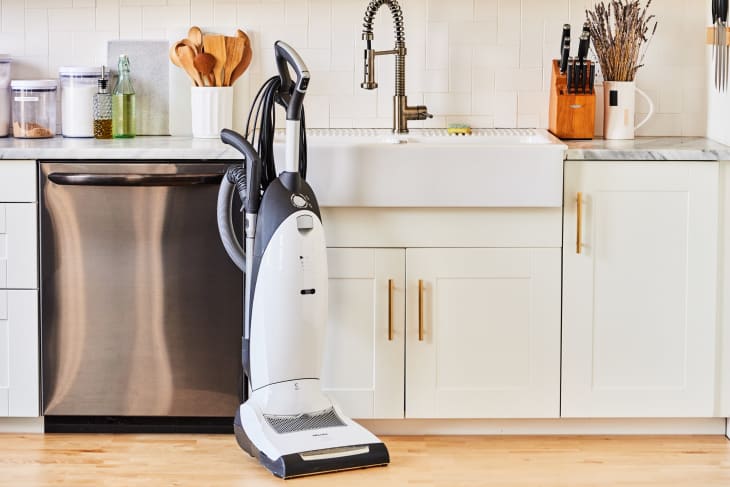 Apartment Therapy's Spring Cleaning Cure is a free 10-day program that'll help you get one step closer to an impeccably clean home. Sign up here and get all 10 assignments in your inbox. 
Here we are, at the end of our Spring Cleaning Cure journey — and you've done some amazing things to get your home cleaner. You've dusted up high and deep-cleaned the rug down low. I hope you're feeling like your home is a bit tidier and your to-do list is a bit lighter.
Although we're at day 10, feel free to backtrack on any tasks you haven't completed yet — you can see the full program here — or get started on something new you've been wanting to clean this season. 
To close the program, let's give the tools that have helped us tremendously along the way a well-deserved cleaning.
Day 10: Clean your cleaning tools.
When putting together this task, I immediately thought of that one episode of Friends, where Monica Gellar is seen cleaning her big vacuum with a handheld one. "If only there were a smaller one to clean this one!" she says. (I love it.) And just like her, we're going to be cleaning our own cleaning tools to thank them for their service and make sure they are running smoothly for their next use.
Here are some tools that might need a deep cleaning.
Rags, towels, microfiber clothes, and gloves. Hand- or machine-wash these items, then dry them — all depending on care instructions. 
Cleaning supplies. Your spray bottles and cleaning containers might need a wipe-down.
Dusters and dustpans. Wipe these clean with some soapy water and a cloth. You could also use a disinfectant solution or wipe, too.
Brooms, brushes, and buckets. Use soapy water in a tub or bucket to clean the bristles of brooms and brushes, careful to swish them until the water isn't dirty. Let them air dry. Then, clean the bucket with soapy water.
Vacuum cleaner. Clean the brush roller and accessory tools of debris, dust, and hair. A seam ripper can be great to use here. Then, move on to the interior of the canister. If it's a bagless cleaner, remove and rinse it before setting it out to dry. If it's time to replace a new bag or filter, take the time to do this now. Clean the outside of your vacuum, too.
Specialty cleaners. If you've used any specialty cleaners — like a carpet and upholstery cleaner — take the time to clean those, too.
PRO TIP: As you inspect your tools, see what might need replacing, whether it's new filters for your vacuum cleaner or cleaning supplies that have gone low. Looking to add to your supply? Here are some must-have cleaning tools.
How has spring cleaning been for you? Tell us in the comments below.
More Ways to Participate in the Spring Cleaning Cure
The Cure Program is a tradition here at Apartment Therapy — it happens every January, April, and September. Click here to learn more about the year-round program and when to sign up.