See How a Home Stager Brightened Up a Dark Living Area Without Removing Any Furniture
We
independently
select these products—if you buy from one of our links, we may earn a commission. All prices were accurate at the time of publishing.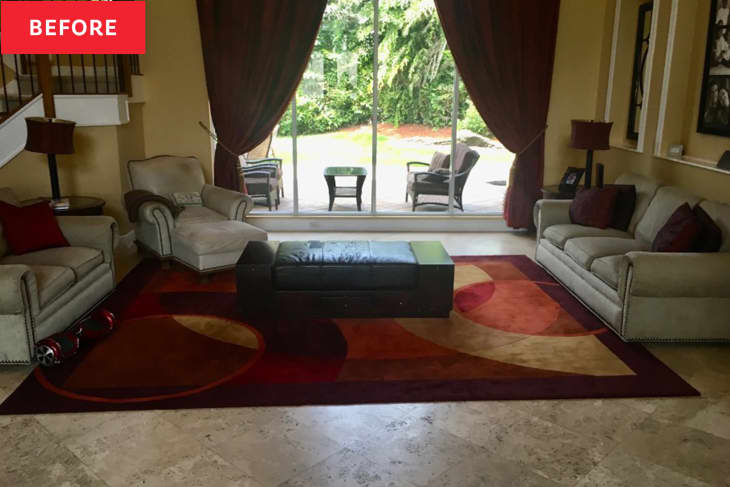 It's a classic real estate scenario: The kids are off on their own, so some empty nesters decide it's time to downsize from their large family home. That was the case with this five-bedroom, four-and-a-half-bath Tuscan-style house in South Florida that had been home to a family of four for more than 10 years. Unfortunately, this classic real estate scenario came with an equally common challenge. While the home's ample size and backyard pool were huge selling points, the very specific decor style, dated color palette, and personal touches were unlikely to get a second glance from buyers scrolling through listings.
With the homeowners willing to repaint — a costly job for this big, open floor plan space — but not up for moving out their furniture and renting more updated staging pieces, they turned to Carol B. Clark of Love at First Sight Staging who transforms properties in Florida and upstate South Carolina. As a pro who specializes in "occupied staging," meaning most of the homeowners' stuff is still in residence, Clark is accustomed to designing around what's already there and using elements like paint, lighting, and accessories to enhance the space.
To take this property from dark and drab to bright and beckoning, Clark leaned big-time into the home staging mantra neutralize, neutralize, neutralize. "The first thing I suggested was removing the heavy red velvet drapes which almost totally obscured the view of the backyard seating area and tropical foliage — two big selling features in Florida," she says. "The sellers agreed, and I think they donated the drapes to the local high school theater department!" With the drapes gone, buyers could focus on architectural features such as the home's ultra-high ceilings and impressive wall of windows.
Next, Clark chose a soft greige paint — Benjamin Moore's Edgecomb Gray — to replace the Tuscan yellow color that flowed throughout most of the house, including the main living areas, stairwell, and primary bedroom wing. "A neutral color will most certainly be something most buyers can live with for a while even if they eventually want to repaint," she notes.
The new lighter hue also better complemented the existing marble floors and provided a calm backdrop for the sellers' leather furniture. A professional cleaning to remove a decade of use was a must for the marble floors. "It wasn't a huge expense, but it made a huge difference in the floor's appearance," says Clark. The homeowners' dark red area rug was replaced with a more neutral, lighter-colored pick to blend with the floors rather than compete with them.
Finally, Clark pulled the leather sofas off the far walls and positioned them closer together with an airy glass coffee table between them instead of the dark, bulky one that was there before. "Floating only the essential pieces, centered on the window, made this room look fresh, modern, and much bigger since you could see more floor space," she says. Swapping out the family photos for a contemporary round mirror that bounced light around the room was the final touch in creating a sunny space that was snapped up in no time.