See How a Stager Infused Personality into a Dated Sitting Room
We independently select these products—if you buy from one of our links, we may earn a commission. All prices were accurate at the time of publishing.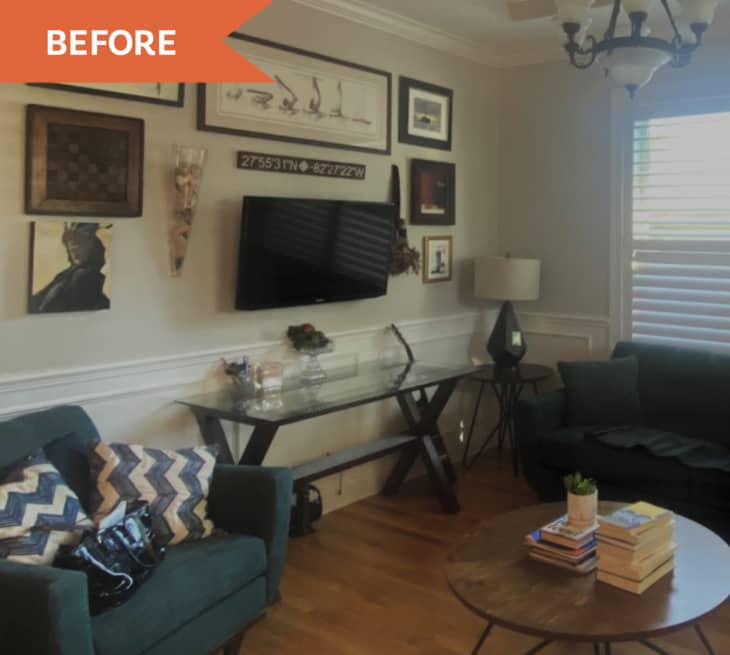 Professional home stagers want to appeal to as many potential buyers as possible, but that often results in bland, cookie-cutter designs and a whole lot of gray. But Margie Kaercher, lead designer with Hearth & Honey Homes in Tampa, Florida, knows that creating a versatile environment with a bit of personality will help a home stand out from the competition.
"Every house should show some personality — even while on the market! While you do want to stage the property to appeal to the highest number of potential buyers, you also don't want to play it too safe on the decor to where the overall impression is underwhelming," she notes.
That's the approach she took in staging a three-bed, three-bath home in the posh Davis Islands neighborhood of Tampa. The 2,871-square-foot space had great bones, but it had but zero style direction or cohesiveness. Kaercher described design as a "hodgepodge, meaning a bit confusing and chaotic," she says. "But how we live in our homes is very different from how we sell our homes, so that is to be expected for a house that hasn't been professionally staged yet."
Her goal for the home was to first depersonalize and declutter it. "Buyers need to be able to envision themselves in your home, and it makes it hard to do that when there are pictures of your family everywhere," she says. Then, she wanted to bring in furniture and accessories to add style and interest, even though she was able to make some of the owners' existing pieces work in the staging.
Right off the entryway is the sitting room, which is a key space. "As we all know, first impressions are everything, so we definitely wanted it to be inviting and interesting," Kaercher says. In addition to feeling cluttered and lacking in style, the room didn't have a clear purpose since the house already had a separate living room that the family used to watch TV.
"Although this sitting room had a television, too, nobody ever used it," she says, adding that the house also had an office, so there was no need to repurpose it as a work space. "If I'm confused what the room is for, then there's a good chance potential buyers will be too."
She set out to create purpose for the room, add style and interest, and make a stellar first impression when buyers walk in the front door. 
One of her first steps was removing the outdated lighting from 2002, when the house was built. Two new overhead lights and an arc floor lamp in the corner instantly brighten and modernize the space. Kaercher notes: "Swapping these out for fun, contemporary, statement-lighting immediately took 20 years off the house!" 
Luckily, she was able to work with the existing blue sofa and coffee table, but she moved the sofa to the wall next to the window so that it overlooks the front yard. The modern coffee table stayed in just about the same place, but adding a circular rug with fringe underneath helped to ground and define the space, she notes. 
After removing the television, desk, and cluttered gallery wall, Kaercher filled the space above the sofa with a large, eye-catching piece of artwork. Across from the colorful couch, two new accent chairs add a modern touch and are low-profile enough that they don't block the window. "And the woven material adds some nice texture to the space," she adds.
To finish off the fun new space, Kaercher added two bold-colored velvet ottomans for additional seating, a large palm plant "to bring the room to life," and the homeowner's own guitar for a lived-in look.
Although the home hasn't hit the market yet, Kaercher thinks it's going to be a winner. And, for readers who think the space has too much personality, she has this advice: "When used right, bright and bold colors can be a huge eye-catcher in online listing photos and in real life."