See How a Home Stager Transformed a Primary Bedroom Without Using Paint
We independently select these products—if you buy from one of our links, we may earn a commission. All prices were accurate at the time of publishing.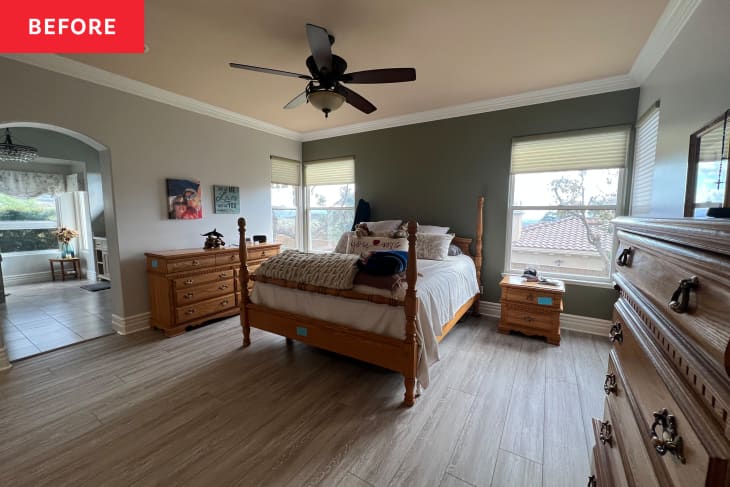 When a professional home stager is called in to get a property market-ready, odds are pretty good they're going to suggest painting all the walls a light, neutral color. This is a popular move because it tends to make homes feel more spacious and gives buyers a blank canvas they can imagine making their own. 
But when it came to this primary bedroom in Rancho Cucamonga, California, taking out all the color wasn't in the plan. "As soon as I saw the room, my mind started to work regarding how I would design with this very green wall," says home stager Pantea Bionki of the mossy wall behind the homeowners' bed.
The homeowners — empty nesters relocating from Southern California to Texas — had maintained the house well and the primary bedroom had good bones. Not only was it spacious, but it also had multiple large windows. The windows let in enough light to keep the room feeling bright, so keeping the wall color was a smart way to save the time, hassle, and cost of repainting. Still, Bionki didn't want the dark green wall to be a focal point; rather, her goal was to make it work as another layer in a space she envisioned being both fresh and luxurious. 
To embrace the green and create a modern vibe, Bionki, who runs Bionki Interiors, was thoughtful in her choice of furniture and accessories. "A simple light wood bed frame with light upholstery, along with a very clean modern black nightstand was a winner," she says. "I chose abstract art with neutral colors and a little black to tie everything together." 
Pairing matching nightstands topped with contemporary black lamps added symmetry and an unfussy feel. Speaking of nightstands, the homeowners' petite, light wood ones were out of scale with the large room. The more substantial ones Bionki brought in created a more balanced feel.
Keeping the words "fresh" and "luxurious" in mind also helped Bionki while making other selections for the room. She brought in lots of texture in the form of velvet pillows on the bed, a faux fur throw blanket, and a cozy bouclé sofa perfect for curling up on. "There was enough room in the space to add a bench on the footer," says Bionki. "But I thought, why not add a very trendy curvy sofa in bouclé fabric instead? I think that idea pushed this room to have a very 'barefoot luxury' feel. You feel the coziness along with luxury." Likewise, the addition of a large area rug beneath the bed made the room more barefoot-friendly.
When it came to the bedding, this time Bionki did rely on a tried-and-true home staging pick: crisp white linens. White bedding gives the buyer a fresh, clean feel and helps them imagine themselves living in the space, she says. It also provides an ideal backdrop for personalizing the bed with colored pillows and throw blankets. In this case, Bionki chose black and dark green pillows and a blanket, which tied into the wall color and artwork.
The changes to this room were fairly simple (no paint required!) but they had a big impact in terms of making the space feel more updated and appealing. The owners were thrilled with the results and received two full-price offers the day the home hit the market.