See How a Stager Transformed a Wood-Paneled Living Room into a Cheerful Hangout
We independently select these products—if you buy from one of our links, we may earn a commission. All prices were accurate at the time of publishing.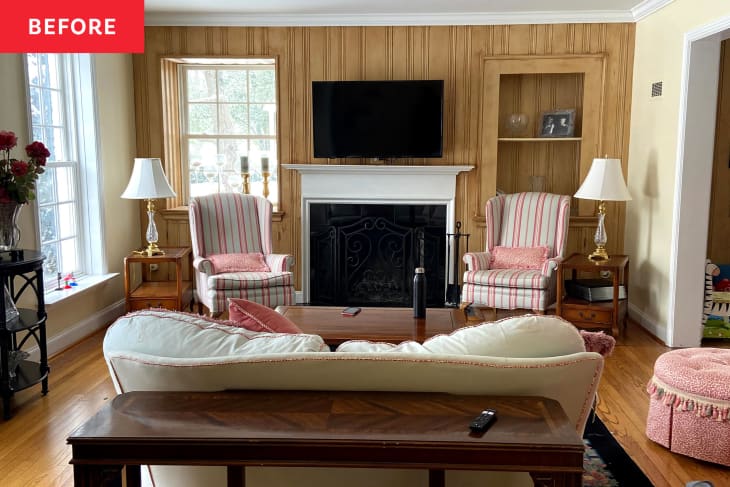 There's a fine line when staging a home. You want to honor its sense of place, but you also want to make it feel updated and relevant for current buyers. That's the challenge St. Louis-based Olive + Opal faced when they were brought in to stage a four- bedroom home in Ladue, Missouri.
Follow Topics for more like this
Follow for more stories like this
The 3,900-square-foot house is located in a neighborhood full of timeless old homes, many of which had been loved for generations and are now turning over to younger families. Many of them also boast classic wood paneling that is reminiscent of a specific mid-century aesthetic. Stephanie Brunt, assistant stager and color consultant, describes the wood-covered dilemma: "Wood paneling is a traditional feature found in many homes in this neighborhood. Unfortunately, the wood tone not only competed with the flooring, but dated the whole space."
Wood paneling can complete a stylish look, but this exact shade didn't work with the palette in the rest of the house — and painting a wall is a much less expensive fix than refinishing floors. "We're all for maintaining the integrity of original features, while also ensuring a pleasing aesthetic to the new generation of buyers," Brunt says. "The agent on this listing encouraged the buyer that painting the paneling the same color as the walls would allow for the unique texture of the paneling to be the point of interest further highlighting that wall as a high design feature of the room."
In this particular room — the formal living room — the Olive + Opal team needed to make an immediate impact. It's the first room off of the main entry and it could make or break the buyer's first impression of the home. Plus, in a world of open floor plans, many millennial buyers aren't accustomed to having formal living rooms, so Olive + Opal wanted to lean into that identity.
"We wanted to showcase a stylish and sophisticated 'grown-up' area that wasn't stuffy but light, neutral, and inviting," Brunt says. "We wanted the buyer to envision themselves enjoying the space, whether that looks like quiet mornings sipping coffee or evenings entertaining friends and family."
In bringing that vision to life, Olive + Opal added more seating, but took away a few of the pieces of furniture that were weighing the space down, including the console tables. Anna Neal, co-owner and lead stager describes their staging updates: "We wanted to keep this living room light and airy. We started with a classic neutral sofa and a pair of neutral accent chairs with clean lines. There is amazing natural light in the room, so we really tried to enhance the brightness and allow for the fireplace to be the star of the room."
They kept the sofa neutral, but brought in a warm and modern aesthetic through the leather lounge chairs. The practicality of the side tables and lamps remained, but the airy, weathered wood adds visual interest without weight. A mirror to reflect light and natural textures finish the space by creating organic warmth. The result is a formal living room that feels cheerful, bright, and ready for its next chapter.
Brunt also offers this technical tip for staging: "When staging, we always consider camera angle for real estate photos, as well as the flow of foot traffic during showings." She explains that this room has two access points: the front door and through an arched opening from the office. "We re-positioned the sofa slightly in front of the longest wall, so that upon entering the room from either side, one wasn't met with the back of the sofa, which can make a space feel closed off and uninviting." 
How did the property and its staging perform? "The property went under contract within eight days of listing and sold for more than asking," Neal says. "With so many millennial buyers starting their search for homes online, it's more important than ever to present a beautifully staged property in listing photos, which can be the deciding factor to get folks in the door." Now, if only I could get an update on what those millennial buyers did with their newfound formal living room.