6 Things To Do Before Anyone Enters Your Bathroom
We independently select these products—if you buy from one of our links, we may earn a commission. All prices were accurate at the time of publishing.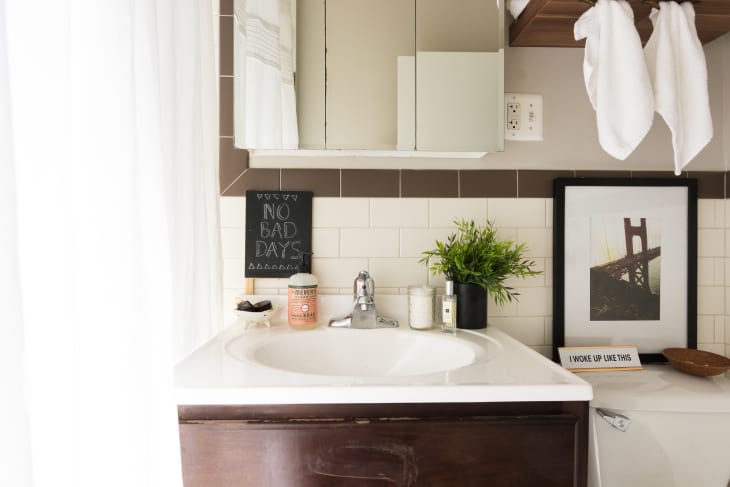 While double sinks and double showers are becoming more common, a bathroom is, at its core, a purposeful space designed for solo use. It's a space that gets a lot of traffic, but isn't usually the most loved since it's not necessarily a space to share. Think about it: How many times have you seen a home with a spectacular bathroom but an outdated kitchen? Chances are slim to none. But just because the bathroom isn't an inherently beautiful space, doesn't mean it can't be.
Follow Topics for more like this
Follow for more stories like this
Whether you're improving your home for a sale, having a date over, entertaining friends and family, or just getting ready in the morning, you may want to make your bathroom look and feel more presentable. And since staging is all about evoking emotions in a home, who better to ask for tips on how to make your bathroom feel dazzling than professional home stagers? Here, four experts share their top strategies to make your bathroom not just presentable—but even brag-worthy:
Is your bathroom counter covered in cosmetics, lotions, and potions? Start by stashing this stuff away.
"Everybody has a toothbrush that is not disgusting to them, and yet it is super icky to touch somebody else's," says Justin Riordan, interior designer, architect, and founder of Portland-based Spade and Archer Design Agency. "Make sure everything from your Preparation H to your shampoo is behind a closed door."
The bathroom can be the smelliest room in the house—and unlike the kitchen, the odors emanating are rarely pleasant. And while you may light a candle every so often yourself, make sure any potential guests have a solution for neutralizing odors at their fingertips, too, Riordan says. Display matches, air freshener, a scented candle, or an innovative DIY toilet spray so guests know they're all fair game to use.
Choose all-white everything
On a day-to-day basis, you might not mind your dingy old towels. You know they're clean, but your guests might not. Make it easy for someone to know exactly what towel to use by stacking a few clean, bright-white linens in the bathroom for an instant spa-like feel.
"Hotels use white linens because it's very easy to see if they're dirty," explains Riordan. "White shows everything so you can easily prove to your guests that everything is fresh and clean with white towels, shower curtains, and bathmats."
Speaking of towels, don't leave used bath towels all over the place, especially if they are still wet or damp. Not only can they confuse guests, but they can also end up cluttering your space.
"Bath towels hung behind a door, thrown over a shower rod or squeezed into a hand towel ring make a small space feel even smaller," says Brian Garcia, principle and designer of D&G Interiors and Design. "Take a few minutes and put them in the hamper or hang them elsewhere."
Here's here easy-to-follow routine: Deep clean the bathroom at least once a month. Then to keep it up, do the following once a day: a quick scrub the inside of the toilet, then a wipe-down of the toilet's exterior, mirror, and sink. When you're done with it, keep the shower curtain closed (it'll prevent mildew). Always refold towels after using them and periodically empty the trash.
Even if it's relatively basic in all other ways, a bathrooms should still have hints of style or ambiance. Rachel Moore, lead designer at Los Angeles-based Madison Modern Home recommends displaying some greenery (either a full-blown plant or even just a leaf or flower clipping) in a small vase or drinking glass or highlighting a pretty scented candle to make the space feel more inviting.
More great Real Estate reads: