One Kitchen Habit I Had to Change When I Learned the Truth About Stainless Steel
We independently select these products—if you buy from one of our links, we may earn a commission. All prices were accurate at the time of publishing.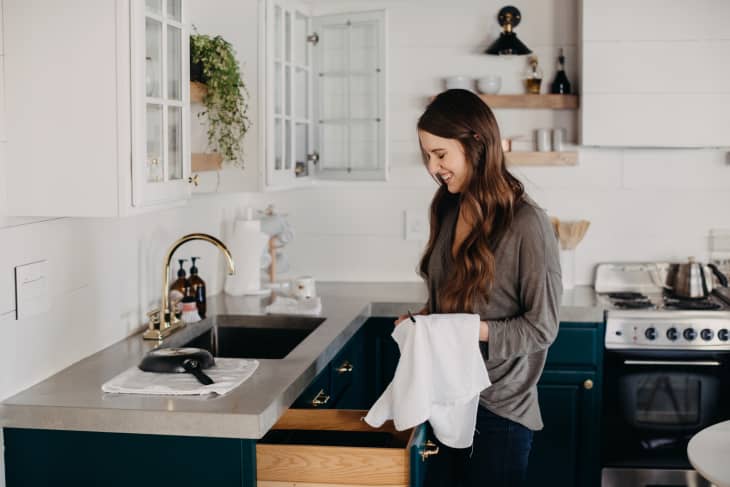 There are so many water bottles in my family's house that Friday has officially become Water Bottle Disinfecting Day. I try to wash our water bottles out with soap, water, and a vigorous scrub with a bottle brush every day or two, but I liked using a weekly bleach bath to reach any hidden mildew or bacteria.
I had a whole routine down for this weekly disinfecting ritual: Stop up one side of my double stainless steel sink, fill it with hot water, gather and open all the water bottles around the house, pour a bit of bleach in the sink, soak the water bottles and lids, wash them, set them out to dry.
But I recently learned some interesting cleaning chemistry: What makes stainless steel "stainless" is actually a phantom coating that can be easily damaged. This protective layer is the chromium oxide that forms when chromium combines with oxygen. It functions like a self-regenerating film over the metal in places like my sink.
This film can be damaged, though, and when that happens, the metal can quickly corrode before a new film can form. Bleach, you may have guessed, is one of the things that can damage the protective coating on stainless steel. I definitely don't want to have rust or pitting in our stainless steel sink, so I quickly changed my water bottle-bleaching habits.
Now, instead of soaking our water bottles in a bleach solution in the sink, I soak them in a large bowl or bin. I may not be able to fit as many water bottles at once, but I don't have to worry about prolonged contact with bleach and can therefore count on my stainless steel sink staying that way.