The Stairway Mistakes Real Estate Agents Wish You Wouldn't Make
We independently select these products—if you buy from one of our links, we may earn a commission. All prices were accurate at the time of publishing.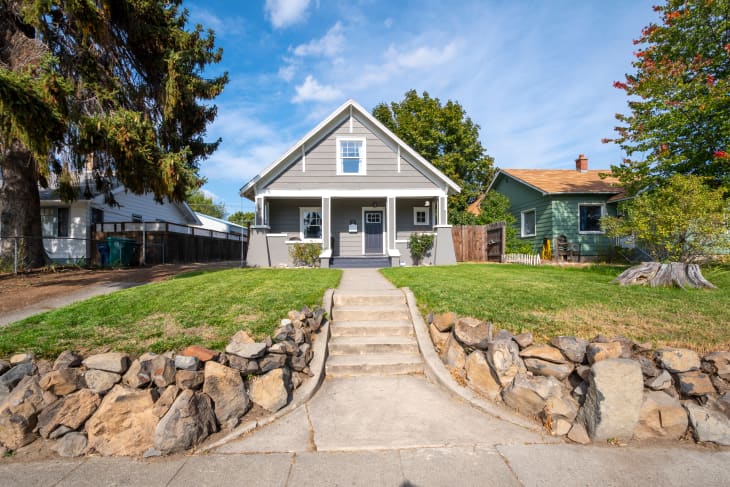 Your stairs serve as more than just a convenient way to move from floor to floor. When done well, staircases can serve as major focal points and become both structural and visual centerpieces of your home. On the flip side, when your stairs become an afterthought and aren't given the same attention as the rest of your home, they can serve as a bad first (or second) impression of your space. Here's what you need to know to ensure your stairs are always putting their best foot forward. 
Follow Topics for more like this
Follow for more stories like this
Failing to maintain your front steps.
If your home has steps leading up to your front door, then your stairs play a pretty big role in boosting your home's curb appeal. We all know how important that is, which is why Andy Tillman, a military relocation professional and real estate agent with Abundance Real Estate, says keeping them in tip-top shape is vitally important.
"Keep them in good repair, painted or stained, and clear of debris because they already draw the eye to the home," he says. "If they fall into disrepair, it can signal to buyers or renters that the interior of the home is in disrepair as well." 
Using the wrong style stairs for your space.
A deck can be a huge selling point for a home, but when Ed Verdel, team lead with The VIP Team, Compass, notices these structures attached to the ground by a spiral staircase, he immediately sees a potential problem. "This can be a huge hazard, not only because they freeze, but also after a few cocktails at your family BBQ."
Going for form over function.
When it comes to indoor spaces, Verdel says both he and the buyers he takes on home tours dread seeing glass handrails. "While they may look modern and beautiful, they are often not practical for families with small children," he says, adding that unless you live in a very modern house (where these are the best fit) you should consider the impact this choice will have on your ability to resell the property. 
Leaving your stairs exactly how you found them.
Annie Royster Lenzke of the Dawn McKenna Group with Coldwell Banker Realty urges people to remember that your stairs can be a major design element and not just a functional piece of your home. "What I would like to stop seeing are the forgotten staircases, both inside and out," she says. "The staircase should be approached as a key element that reflects the design of the home and enhances the style. Recent design trends are moving towards simple and streamlined balusters, which have a clean and timeless look."
That being said, Royster Lenzke knows that this isn't a one-size-fits-all style, which is why she urges homeowners to be thoughtful when it comes to staircase renovation trends. "The initial design or renovation of a staircase should be approached as an element that elevates the style of the home, not simply a means to take you from point A to point B."