The Curb Appeal No-Nos That Instantly Date Your Home
We independently select these products—if you buy from one of our links, we may earn a commission. All prices were accurate at the time of publishing.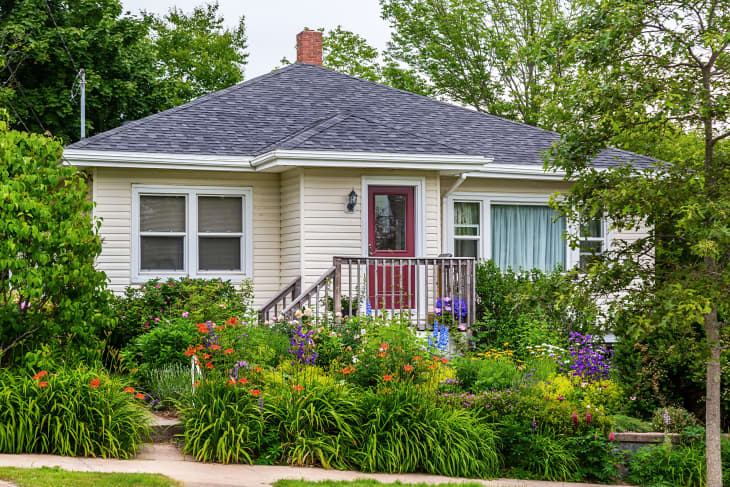 When I sold my home, I had it almost updated it to the way I wanted. The house itself had beautiful brick red siding that helped it stand apart from the other homes in the neighborhood, which were all pale yellow, white, and light blue. The roof on both the house and the garage had been replaced, but the garage still carried the pale yellow siding the house used to have. I'd tried to start a garden, but my soil was terrible so it never worked. My landscaper cleaned up the trees and bushes, but the yard was still overgrown (how I liked it). Oh, and my driveway was old and too expensive to replace.
Follow Topics for more like this
Follow for more stories like this
In short, my house was a curb appeal disaster. It was half-finished and all over the place — and although I still found a buyer, it was a bit rough getting people to come in past the mess of a yard I had.
If you're trying to sell your home, don't make my mistakes. Make sure to remedy these curb appeal problems that make your house look dated. 
The color of your home and its landscape accents can be a very personal choice. But try to avoid earth tones and brown-adjacent colors. Those were popular about 40 years ago, says Ashley J. Farrell, a Realtor with the Corcoran Group in both Westhampton Beach, New York, and Palm Beach, Florida.
"Today cool whites, grays, and black are in style," she says. "When combating a dated look, one item to consider is 'brightening' the facade. This includes updates such as painting red brick or dark brown siding to white, and changing any non-neutral color to a neutral shade on the house itself or on the shutters and trim."
In all actuality, the wrought iron railings at your home were probably there when you moved in. But they are outdated and should be swapped out for a more modern feel. Farrell suggests replacing them with wood, a wood alternative called Azek, or aluminum. 
"You can also add a porch or portico to give dimension to the facade and add a point of visual interest," Farrell says.
You may love your naturally growing front yard with twisting vines, wildflowers, and more, (to be sure, nature does too), but not many buyers are looking for that sort of property, Farrell says. It's better to get it under control if you want to boost your curb appeal. 
"Landscaping can very much be a personal preference, similar to color," Farrell says. "If you prefer natural vegetation and perhaps overgrowth it's important to realize you may be in the minority. Overgrown, unwieldy bushes and shrubs can make a house look uncared for and old. For a fresh look, cut it all back and tidy up."
If the asphalt for your driveway runs right up to the road with no transition, that can look not just outdated, but also unfinished. For the best current curb appeal look, add something to adorn your driveway. 
"Creating an apron (Belgium block is popular) at the foot of an asphalt driveway will add some great updated detail, as will new paver walkways and exterior stairs," Farrell says.