If You Still Store Eggs and Dairy Products in the Fridge Door, You Should Know There's a Better Way
We independently select these products—if you buy from one of our links, we may earn a commission. All prices were accurate at the time of publishing.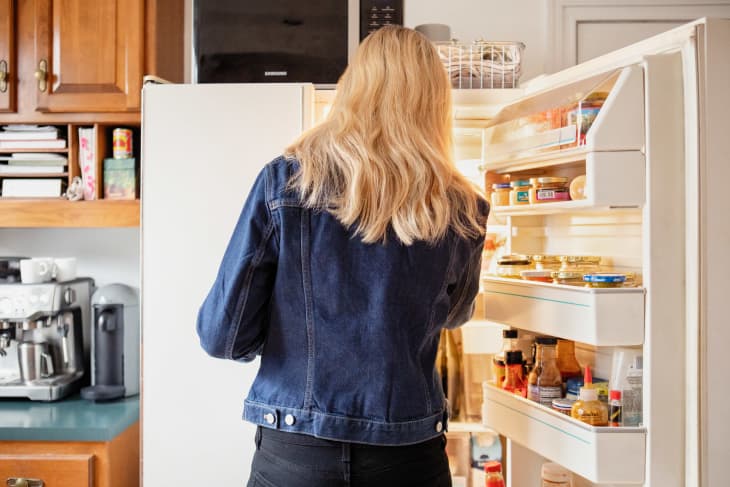 With plenty of shelves and convenient compartments, the fridge door makes it easy to store everything from certain drinks, dairy, eggs, condiments, and even veggies. Some fridge doors have built-in egg holders or a space for an egg storage container, as well as shelf space that perfectly fits a carton of milk. Despite these temptingly easy areas to store eggs and dairy products, several experts agree that there is a better way to store them and that putting them on the fridge door can cause bacteria, contamination, and food waste.
"The egg cups attached to fridge doors are not conducive to keeping dairy products from turning into illness-causing food items because they're usually placed high, whereas cold air goes down and rests at the bottom parts of the fridge," says Christine Kingsley, an advanced practice registered nurse and the health and wellness director of the Lung Institute. 
According to Kingsley, the back of the top shelf is the coldest part of the fridge which makes it the best place to store eggs and dairy. Storing these items properly can not only extend their shelf life compared to keeping them on the door but can prevent bacterial growth too.
"The non-normalization of salmonella vaccination for chicken livestock in the country's local farms poses an ever-present, albeit minor, threat that many commercially available eggs carry a dormant strain of salmonella," says Kingsley. "Cold temperature prevents its growth and spread, therefore storing them in fridge compartments or shelves where the temperature reaches its lowest point is critical."
Another con to keeping eggs in particular stored on the fridge door is their likelihood of breaking. Opening the fridge door, even with minimal effort, can cause them to crack, break, or fall. 
"You may not even notice some cracks until you decide to use them in your cooking," says Brian Nagele, former restaurant owner and CEO of Restaurant Clicks. "The longer you leave cracked eggs in the fridge, the greater the odds of bacterial contamination. It's why otherwise good-looking eggs are surprisingly spoiled by the time you pull them out of the refrigerator."
For dairy items, such as milk and cheeses, Kingsley recommends storing them alongside your eggs on the top shelf and wrapping cheeses in wax or parchment paper. She also suggests keeping eggs in their original packaging to ensure they remain food-safe (and avoiding the need to buy a plastic egg storage container).