I Tried that T-Shirt-Collar Laundry Hack from TikTok — Can You See the Difference in The Photos?
We independently select these products—if you buy from one of our links, we may earn a commission. All prices were accurate at the time of publishing.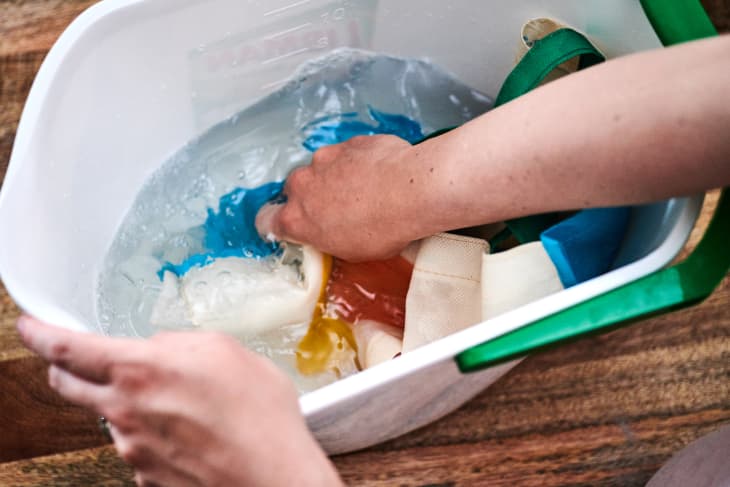 For as long as I can remember, my husband has owned a shirt we lovingly call his "nightshirt." Neither of us have any idea where exactly this shirt came from; for the entirety of our seven-year relationship, this shirt has been strictly reserved for pajamas.
The first reason for relegating this garment to the pajama pile is that, as all nightshirts should be, it is extremely soft. The second is that the shirt is clearly past its prime — especially when it comes to its collar, which has always been a bit wonky. Not only does it never sit flat, but it's been stretched out far past the normal size of the neck opening for as long as I can remember, and it only keeps getting more stretched out as the years ago on.
Instead of having structure, it's baggy and wrinkled. Instead of being the traditional t-shirt shape, it's become a crew neck. 
As a firm believer in the power of incredibly soft clothing, there's nothing (not even a stretched-out collar) that could convince me to throw out this particular shirt. But when I saw a hack on TikTok all about saving t-shirts with stretched out collars, I figured it might be time to spruce up the ol' nightshirt. Plus, this is the kind of shirt that could surely survive anything. If the experiment went wrong or didn't work at all, nothing would be lost in the process. 
The gist of said hack, outlined by @ChristieMoeller, is to first fold the collar of the shirt in a "wave" pattern, then soak it in ice water. After wringing out the wet collar and unfolding the shirt, you then iron out the collar and allow it to dry flat naturally. Once it's dry, it should be good as new.
I started by trying my best to follow the movements of Moeller to achieve the "wave" she talked about, but I was never quite sure what this meant. In the end, though, I ended up with a bunched up collar that was similar-looking to the t-shirt in the TikTok. I filled a bowl with ice and water and soaked the folded-up collar in the water until it was soaked through. After wringing out the water, I unfolded the t-shirt's collar and placed it on an ironing board. 
After ironing the damp shirt, the collar already looked a bit better, but did it look smaller or less stretched-out? Not so much. I was skeptical, but I continued to follow the TikTok's instructions and left the shirt sitting on the ironing board to dry overnight. I imagined the combination of ice water and heat might help constrict the fabric and shrink it down a bit. In other words, I could see a scenario in which this would work. When I went to check on the shirt the next morning, though, I found it looked… exactly the same. Womp womp. 
If there was any collar shrinkage thanks to the experiment, it seemed minimal. The main effect of the hack seemed to be that the shirt felt generally stiffer around the collar — a little less soft and prone to wrinkles, maybe. But significantly smaller? Back to its original state, or what I would imagine its original state to be, anyway? Not so much. After taking a quick "after" photo, I shrugged off the experiment and left the shirt to dry on the hanger for a few more days.
When I went to write this story, I was fully prepared to talk about just how pointless the hack seemed to be. And then I looked at the before and after photos wondered if my assessment was wrong.
Does the collar look completely different? No. Does it look perfect? Also no. But does it look smaller? Yes. It actually does! Obviously the difference isn't night and day (seeing the side-by-side photos obviously made a huge impact on my perspective), but it seems like the process did actually have an effect on the shirt. I would even venture to guess that the extra couple days I gave the shirt to air dry made a difference in terms of shrinkage. 
Personally, I still think there's something about a worn-in, stretched out, baby soft T-shirt that makes it that much better than a new, stiff, not-yet-lived in T-shirt. Still, it's nice to know that there is an option out there (that costs nothing) for making T-shirts feel a little less like pajamas and a little more like real clothes if you want one.