I Don't Buy Pajamas for My Kids and It Saves Me So Much Time, Money, and Sanity
We independently select these products—if you buy from one of our links, we may earn a commission. All prices were accurate at the time of publishing.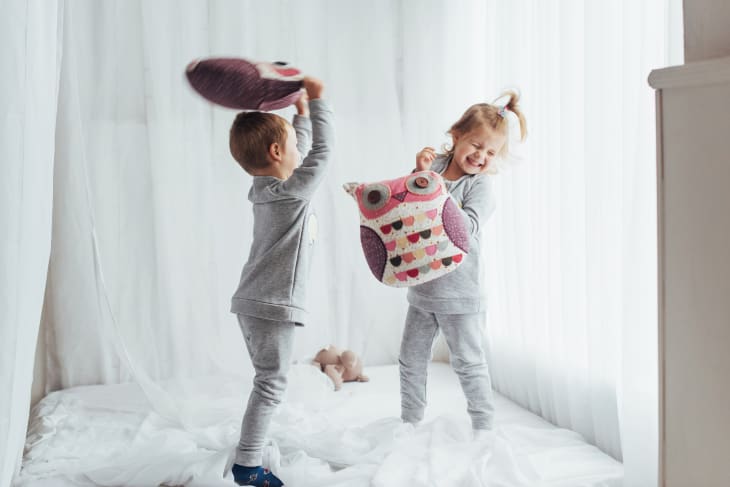 A cozy set of pajamas usually makes people think of winding down, getting comfortable, and entering a blissful state of peace and rest. But for busy parents like me, who have endured many nights corralling their kids to bed, the reality of pajama time is a much less serene experience. Getting young kids through their bedtime routine is often chaotic, frustrating, and almost always takes longer than expected.
That's why I stopped dressing my kids in pajamas at night. Yes, it may sound weird that my kids do not wear pajamas. And no, they do not wear their dirty clothes to sleep: they sleep in the outfits they're going to wear the next day. So even though it's still the same amount of effort to get them dressed at night, it saves me time, because it's one less thing to do in the morning. And there's an extra bonus — not buying pajamas means extra savings in the bank!
This tip was passed down from my mom. And while you probably won't find her unconventional advice on any list of ways to save time and money, that's certainly what this tip does. My mom did the same thing with me and my sister when we were little. Every morning, my parents had to wake us up before 6 a.m. so they could drive us to our babysitter before they went to work. It was a daily struggle to get their sleepy, whiny, slow-to-move, 5- and 3-year-old girls dressed quickly enough to leave the house so that they wouldn't be late. After experiencing enough exasperating mornings like this, my mom came up with a brilliant idea to save time in the morning by letting us sleep in our clothes for the next day. Doing this not only made it faster and easier to get us all out the door; it also made mornings way less stressful and hectic.
When I started doing this years ago with my own young children, I had low expectations that it would make much of a difference. But the change was like night and day (pun intended). Instead of going through a clothes-changing routine twice a day, we only had to do it once. I thought the kids would complain about being uncomfortable sleeping in daytime clothes, but as it turned out, doing this made them less picky about what they slept in. My kids can sleep in anything! Mornings were instantly less rushed. No longer did I have to suffer through early-morning wrestling matches with my children to get them dressed after having just done that a few hours earlier. There was less fighting, less whining, and less loss of an exhausted mom's sanity. Truly a win-win for everyone!
Admittedly, when I see photos of families snuggling up together in matching pjs, I can get sentimental and miss seeing my kids in their cute and cuddly pajamas. Despite the occasional nostalgia, and the slight problem that our kids never know what to wear to sleepovers and on pajama day at school, I have never regretted making this time, money, and sanity-saving change to our bedtime routine.