Here's Exactly How to Book a Last-Minute Summer Rental (Without Breaking the Bank)
We independently select these products—if you buy from one of our links, we may earn a commission. All prices were accurate at the time of publishing.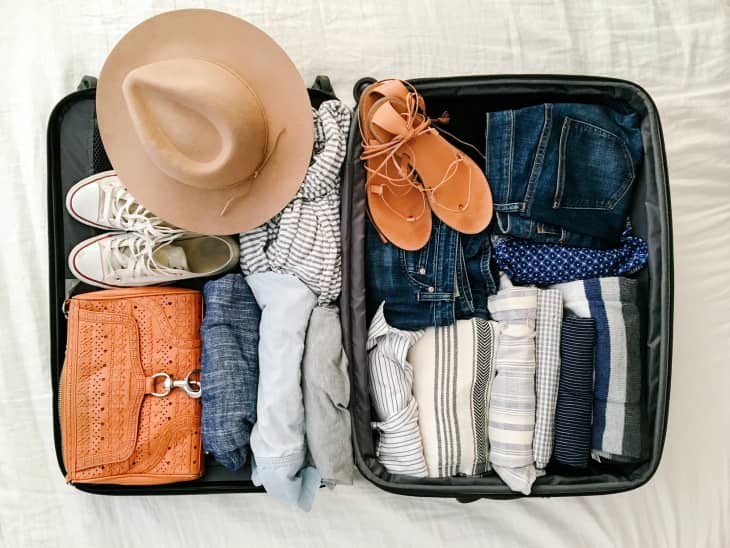 The conclusion of summer means a return to work and school schedules, whether you're an adult, a kid, or a member of a household with both. Although the season doesn't officially end until late September, the looming start of school causes folks to hold on to those last days of summer. But before you load up those backpacks, it might be worth dusting off your suitcase and taking advantage of the last chance to head somewhere new.
Before setting into your regular fall routine, it is still possible to get away from it all — and to do so as safely as possible, given the rise of COVID-19 variants. Whether you want to spend time with other vaccinated members of your family or sit by the water and finally finish your favorite novel, here are six tips to booking a last-minute summer rental without breaking the bank. 
Choose your destination wisely.
When booking a last-minute vacation, consider locations that aren't typical tourist traps. Vacation rentals in less-touristy areas tend to have more dates available, will allow you to more easily distance yourself from people outside your party, and the nightly cost tends to be less expensive than traveler hotspots. 
Look for locations that have what you want — whether that's beaches, quiet woodlands, or quaint downtown areas — that you may not have considered before. Not only will you find a fabulous place to relax, but you'll have the added bonus of discovering somewhere new. Before decide on your spot and before you head out, consult a map of coronavirus cases to see if the destination is a COVID hotspot or is experiencing any spikes in cases. Also, make note of the proximity to local hospitals and urgent care centers and whether or not you can be tested should the occasion arise. Wherever you decide to go, do your best to maintain distance from others and follow correct CDC protocol so as to minimize the risk of infecting other people in the area.
Even if you score highly economical accommodations, there are other costs beyond your lodging. Locations that attract travelers can be pricey, so factor in expenditures above your overnight stay. Research the area to find out how much you may spend on activities, food, and parking. Estimate how much money to allot in various destinations. The expense of the location itself may ultimately counteract inexpensive accommodations.
Yes, Airbnb and VRBO are excellent platforms for finding last-minute vacation deals. However, finding a local management company can help you save money, as well as avoid booking and hosting fees. "Third-party platforms charge the guest a 12 to 18 percent guest fee and the host a 5 percent fee," says Taylor Gates, a co-founder and the CEO of Stay Duvet in Charleston, South Carolina. "There is a huge savings by booking directly, and both parties win."
Joanne Logie, the founder and CEO of New England Vacation Rentals in Cape Cod, Massachusetts, echoes this sentiment. "If you book online with VRBO or Airbnb, it will cost you more money because of the high traveler booking fees that these companies charge. Always book direct for the lowest prices," she says. So, how do you find a company for direct booking? Use Google to your advantage. Search "vacation rental management companies" and add the city or area of your choosing. 
Prior to booking, ask each company what their policies are on cancellations, if they have COVID protocols, and about extra sanitization measures they are taking. It's always better to be safe than sorry.
Want to be by the water? Instead of heading to a faraway beach, consider a vacation rental at a nearby lake or river. Staying close to home ultimately lessens the travel cost, and can allow you to spend more time in your final destination if you don't have to bank a full day for travel each way. Traveling can also be stressful, so circumventing a long trip will help you arrive home refreshed.
Eliminate filters for online searches.
Search filters are a great help when looking online. Potential guests can search by the number of bedrooms, proximity to attractions that are open and operating, and preferred dates. Although it may seem counterintuitive, the fewer filters you plug in, the better your chances of finding suitable rentals. Of course, not everything available will suit your needs — but those additional properties may be workable for you and your group.
"Cape Cod is very travel-date specific," Logie reveals about her specific area, which tends to book weekly from Friday to Friday or Saturday to Saturday. "Generally, if you enter dates without any filters, you will see all that is actually open." For example, you may be able to make a single bedroom rental work for four people if your room has a sofa bed and all four people don't mind sharing the space. Additionally, if you are flexible with your travel dates, you may find lodging by adjusting your starting and ending days accordingly.
Most management companies allow you to book online. However, if you don't find exactly what you need, making a phone call is your best bet. Sometimes a company will have last-minute cancellations or know of a property that isn't available or on their platform yet. "Book with a local management company as they usually have more available than what you see online," suggests Gates. "Sometimes availability does not update quickly online."
Even if there isn't something available at the moment, the company can save your information in case there is a last-minute vacancy. Although you can't rely on others calling off their vacation plans, cancellations and rescheduled travel dates are relatively common. Contacting the management company makes them aware of your interest should a rental become available. 
Search last-minute booking sites.
For a genuinely last-minute trip — as in, "let's go somewhere tomorrow!" if it's reasonably safe to do so — utilize an app or site designed for a spur of the moment rental. Apps such as Hotel Tonight showcase deals on last-minute accommodations. Even though these platforms don't specifically feature vacation homes, you can find fabulous prices on alternate accommodations.
Take advantage of quick getaway deals with sites like Expedia and Travelocity with tabs that feature last-minute deals. Although selections and destinations are limited, most places would rather fill a room inexpensively than let it go empty. Though such flexibility is a huge luxury in itself — and it's always important to check COVID transmission rates before you book your trip — approaching a getaway with an open mind can provide unique memories as you cling to the fleeting days of summer.