The One Big Way You're Probably Surfing Zillow Wrong
We
independently
select these products—if you buy from one of our links, we may earn a commission. All prices were accurate at the time of publishing.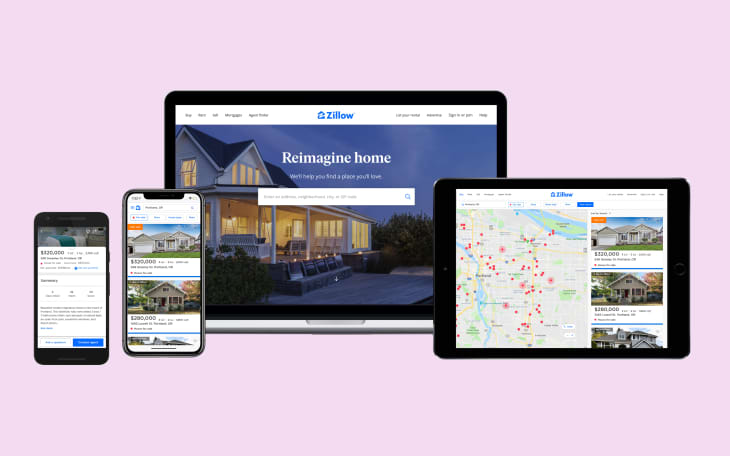 As I arrive at what feels like day 14,000 of sheltering in place, my familiar, unchanging apartment lends little to my imagination. Once I wrap up my work for the day, all I want to do is check out mentally and daydream about being in any home but mine. And when I want to unwind, I know where I always wind up: on Zillow. 
Whether you're surfing Zillow for "someday" homes in your neighborhood, or for "in your dreams, sweetie" megamansions with miniature towns built into the basement, there's a good chance you're making one huge mistake while browsing. You're probably not leveraging your Zillow surfing for the future. What I mean is: don't just peruse your favorite homes—save them. 
Adding this simple and effective step to your browsing will make excellent use of your time—and trust me, people are really using this time to browse. According to Zillow lifestyle expert Amanda Pendleton, "Home shopping has spiked during this time. Page views to Zillow's for-sale listings are up 50 percent year-over-year." With this new influx of Zillow users, the real estate company is continuing to encourage visitors to embrace the information available to them.
"Zillow's mission has always been to arm home shoppers, sellers, and renters with as much information as possible about homes, about the real estate market, so they can become informed consumers," Pendleton says.
One way to become an informed consumer? Know what you like. Zillow users who save homes develop a digital portfolio that showcases houses which, for whatever reason, strike a surfer's fancy. By referencing their saved homes, a user can identify repeating features—wraparound porches, corner lots, three-car garages, whatever—that help narrow down an overwhelming number of listings. This awareness is invaluable when beginning the process of house hunting. Now you have a vision board of homes you can show your real estate agent when it comes time to buy.
Plus, there's much more to Zillow than simply saving home listings. Neighborhood data, home histories, and housing trends are all key features of the site. While this information might not seem relevant on nights when you're zipping through listings with a glass of white wine in hand, imagining what CB2 pieces you'd pepper throughout the house, it can and will come in handy in the future. By creating a Zillow account and saving all of the standout homes you love, you're developing your own personal database to inform your home-buying decisions later.
Anyone interested in buying a house (especially during the global pandemic) can attest that it's an overwhelming process. Refining your surfing practices and adding the Saved Homes option cuts through the unknowns. 
"Saving your favorite homes on Zillow really allows you to create your own personalized custom database of comparable sales, so you can start to view trends over time in the neighborhood that you eventually hope to buy in," Pendleton notes. "You can start to track sale prices of the homes that you love, you learn how much they're selling for… so when it comes time to buy, you know what's a fair price, what's a great deal so you know when to jump, and you can put your best foot forward when it comes to making an offer." 
Having all of your saved homes in one place gives you access to pricing data in neighborhoods you're dreaming of. So, referencing your saved Zillow homes thus becomes a crucial first step in managing your home search. Now, where's the chardonnay?