Why This 1970s Newsletter Should Be on Every Homeowner's Bookshelf
We independently select these products—if you buy from one of our links, we may earn a commission. All prices were accurate at the time of publishing.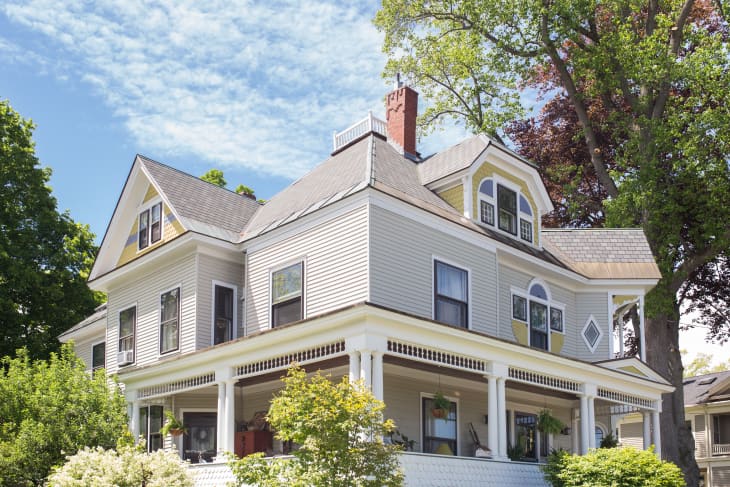 There are just certain things that you only understand if you love old houses. If you, too, wake up and look at your ceiling and think, was that crack that big yesterday?, then you get it. We just can't help it. Despite the never-ending problems, the drafty windows, creaking floors, the not square or level anything, there's just nothing like the feel of a solid old home that's been standing for decades before we were born and will be here long after we're gone. 
Follow Topics for more like this
Follow for more stories like this
It's funny that I have such a love for old homes considering that I grew up in a new construction family. I watched my dad build new homes from scratch from the time my parents could tote me to the job site, and to this day I love the smell of fresh lumber.
But when it came time for my husband and me to buy our first home, the imperfection of plaster walls, the seasoned gleam of hardwood floors, and just the intangible idea of the stories in the bones of the house won out over a brand-new build, no contest. We bought a 1928 bungalow and quickly learned about the pitfalls of an older home. 
And luckily I have a place to turn when I need clear, easy-to-understand information.
I stumbled across a book at the library a few years ago that spoke to my soul—as it will any other old house diehard. It's a book that collects  a 1970s newsletter for old home enthusiasts; the pages look like they're typewritten because they literally are. It's the "Old-House Journal Compendium" and it had me from the first pages, where it lays out the romance of a grand old house and presents the very real and potentially catastrophic problems. Although it was written back in the 1970s, it still rings true today.
In a passage I'd like to tape to my mirror, it addresses the qualms of purchase. 
"A word about worry: buying an old house is for most of us a great emotional trauma. You'll wake up in the middle of the night in a cold sweat absolutely sure that you've made a horrible mistake. But if you've done your homework carefully by the light of the day, you can safely ignore those dark nights of the soul. Take comfort, because just about every old-house buyer has gone through these second thoughts, and has gone on to conquer both the fears and the house." 
And as horrifying as old house problems can be (shall we talk about the time we learned a previous owner had duct-taped the plumbing only after it started seeping through the walls?), I take comfort in the no-nonsense, easy to understand explanations in the book. 
I bought a used copy of my own, and it makes for a fun and informative read just for an enthusiast (OK, an old house nerd), with illustrations and descriptions of various old home architectural styles, a diagram of all the parts of a house from header joist to gable stud, and historic floor plans. But its real value comes in the instructions and how-tos, beginning with a multi-page checklist for appraising the structure, invaluable when you're looking at a century-odd-old house. 
There's detailed information on where to start—often your biggest question—if you're restoring the home, what order to do things in, and how to honor the home's history. 
And then it gets into the nitty gritty for any issue that can, and will, arise, and instructions for how to do your own repairs and restoration for everything from the brick to the shutters. When I recently needed a crash course in floor joist repair for our 1951 rehab project when an ill-chosen hire did the work wrong, I combined a video chat (from inside the crawl space!) with my contractor dad with a study of the pages of clearly drawn illustrations and explanations of what joists are and how they work. Because I'm my own general contractor, that intel helped me be able to discuss the (re)repair with the next sub-contractor I hired. 
The book also includes details on period design and decoration (not really my thing, but still fun to read!), a fascinating section on early American kitchens, and tips for adding storage, as valuable in 2020 as in the 1970s when it was typed up in an 1883 brownstone in Brooklyn. As much a reference as a pick-up-and-flip-through-the-pages-for-fun kind of book, it's the best home improvement resource I own, and one of my favorite books, period.
While this book doesn't cover new builds, you don't have to be living under an antique roof to appreciate its guidance. Many of the construction and home improvement principles remain the same today as they were back then, and if you're looking to take on any projects at home it's a seriously helpful resource to add to your list.
You can still find the book online, and believe it or not, the magazine this book grew from is still in circulation! You won't find Pinterest-style, open-floor plan content, but you will find lots of useful information for homeowners settling into their own old house. In fact, I think I might just continue my reading and inspiration with a subscription.