5 Surprising Things You Can Actually Clean with Oven Cleaner
We independently select these products—if you buy from one of our links, we may earn a commission. All prices were accurate at the time of publishing.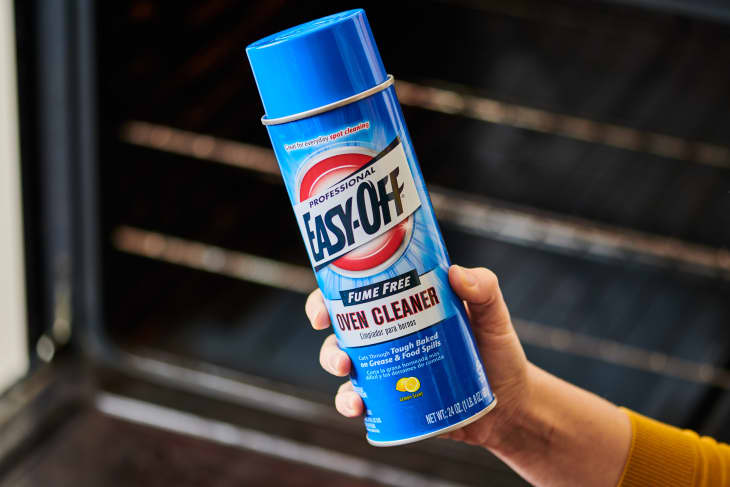 When used properly (i.e., with proper ventilation) oven cleaners like Easy Off can be a powerful and convenient way to clean one of your most-used appliances. As it turns out, they can also work wonders in other spots around your home.
Follow Topics for more like this
Follow for more stories like this
1. Remove yellow stains from glass containers. 
For those of us attempting to use less plastic in the kitchen, glass food storage containers are a great alternative. If yours are covered in old yellow stains, just spray a few spritzes of Easy Off, let it break down the residue for about a minute, then wipe it away with a microfiber cloth. When you're done, wash the Pyrex as normal.
2. Reset a cast iron pan. 
Inherit a crusty cast iron pan? Oven cleaner to the rescue. To remove gunk from the pan surface, spray with oven cleaner, and then put it inside of a big (sealed!) plastic baggie for 12 hours. Afterward, wash the cast iron well and dry it with a clean cloth. It'll take some time to re-season your cast iron, but at least you won't be cooking on someone else's food leftovers!
3. Clean the inside of fireplace doors. 
You use oven cleaner for your oven door, so why not apply the same effect on your fireplace? If you have old smoke stains on the inside of your glass doors, spray a can of oven cleaner inside, let it sit for 10 or 15 minutes, then wipe away. To add some shine, spray a water and white vinegar solution on the inside of the doors and wipe them down with a microfiber cloth or paper towel.
4. Erase burn marks from pots and pans. 
A normal Magic Eraser might not do the trick, but oven cleaner will. To remove stubborn black burn marks from your pots and pans, simply spray the affected areas with oven cleaner, then allow it to sit for 30 or 45 minutes. Afterward, wipe the excess product away and wash with soap and water. Good as new!
5. Remove rings from your porcelain tub. 
Another ingenious way to use your oven cleaner: To clean the water rings in your white porcelain bathtub. All you have to do is spray the unsightly area with oven cleaner, and then let it break down the discoloration for about three hours. Scrub with a sturdy scrub brush, then rinse the tub well before using it again. One caveat: Never use oven cleaner on colored porcelain to avoid discoloration.