A Guide to Tablecloth Sizes (and How to Choose the Right One)
We
independently
select these products—if you buy from one of our links, we may earn a commission. All prices were accurate at the time of publishing.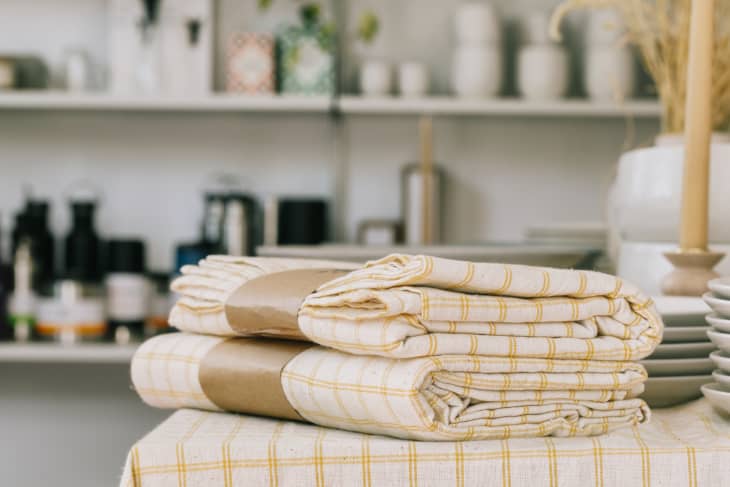 When it comes to tablecloths, one size does not fit all. If you've ever tried to awkwardly fit a square cloth on a long, rectangular table like I have at many Thanksgivings, you know that size — and shape and dimensions — matter.
Kastina Morrison, Lead Planner & Owner at Kastina & Co., has a motto she lives by when dressing a table. "I'm a big fan of 'as low as you can go' on the drop," says Morrison. And she means all the way to the floor whenever possible. She explains, "I don't think it matters. I love the clean, finished and complete look of a floor-length option for all occasions."
When a tablecloth is too short, she says, "Seeing the table legs can feel incomplete or like you're just hiding the table instead of making a full complete design choice." But standard size linens, like 90" x 156" rectangles and 132" rounds, can make going low difficult. And that's when it's important to know how to measure for the right tablecloth size and make a choice that will look intentional and stylish.
How to Measure the Right Tablecloth Size
Morrison says, "Measure the width and length, or diameter, of your tabletop in inches. Jot that down. Then measure the 'drop' length — how far down you want it to hang on the side." If you want it to go to the floor, most dining table heights are 30".
If you have a rectangular or square table, Morrison explains, "There are 2 sides to a table, so the 30" drop length will be on both the right and left side of the table. Accounting for the length of an 8′ or 96" table would be 30″ + 96" + 30" or 156" long." She says the largest, standard-size linen you'd be able to easily get for this would be 90″x156″. For round tables, she says, "A 5′ or 60" round table would be 30″ + 60″ + 30", so a 120" round linen would be perfect."
Here's an easy way to measure the right tablecloth size based on the type of table in your home.
Rectangular or Square Table:
[Drop + table width + drop] x [Drop + table length + drop] = Tablecloth size 
Drop + table diameter + drop = Tablecloth size 
Standard Tablecloth Sizes
Most tablecloth sizes can be found at your local home store or ordered online through retailers like Bed, Bath & Beyond. Standard sizes generally include:
Rectangular Tablecloth Sizes (width x length):
52" x 72" 
52" x 114" 
90" x 132" 
52" x 120" 
90" x 156" 
Square Tablecloth Sizes (width x length):
52" x 52"
62" x 62" 
72" x 72" 
85" x 85" 
Round Tablecloth Sizes (diameter):
Are There Different Tablecloth Sizes for Different Occasions?
"When measuring a tablecloth, it is essential to think about the table itself and the formality of the occasion. Are you looking to highlight the legs of the table, or have the table completely covered?," says Layne Povey, Principal Designer at The Lynden Lane Co..
She explains that when measuring the length and width of the table and taking additional drop into account, consider how formal the table will be. "For example, you might want something less formal for Thanksgiving, and therefore the drop on the sides will go only 12" to 24" inches on each side. For a more formal look, it might be 30" to 36" inches in order to hit the ground," recommends Povey.
Take the Table Styling Into Account
Additionally, Povey explains that you're not always confined to simple measurements of a single tablecloth. "Layering is a great way to incorporate a more interesting linen. Use a beautiful base linen or something weighted that goes to the ground, and then overlay that tablecloth with one that is more colorful or unique that can be changed out easily for each event," says Povey. 
And, a final note, if you do nothing else, Morriso advises hosts and hostesses to always match the shape of the tablecloth to the shape of the table for a seamless and sophisticated look.