Terri & Adam's Creatively Color-Coordinated Home
We independently select these products—if you buy from one of our links, we may earn a commission. All prices were accurate at the time of publishing.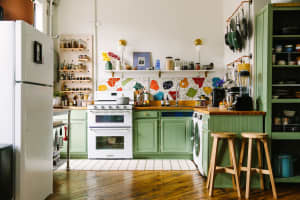 Can't-Miss House Tours Straight to Your Inbox
Keep up with our latest house tours each weekday with our House Tour of the Day newsletter
Name: Terri Falvey (Advertising copywriter, freelance graphic designer, daydream comedy writer) and Adam Penly (Software engineer, musician, amateur photographer)
Location: Albany Park; Chicago, Illinois
Size: 1,200+ square feet (townhouse w/ partially finished basement)
Years lived in: 1.5 years
Follow Topics for more like this
Follow for more stories like this
You know how some couples are simply fun to be around and some homes are simply happy homes? Well, Terri and Adam are that kind of couple and their home is a happy one, a vibrant mix reflective of their creativity and love of design, with a few tips of the hat to the funny side of life, because after all, any happy home is filled with laughter. 
Two themes running through Terri and Adam's place are color and creativity. I love how they've used these elements to turn a fairly basic raw space into a home filled with lots of visual interest that still retains a feelings of openness. A healthy dose of personality also comes through in Terri and Adam's DIY pieces. As skilled DIY-ers (in fact, their stunning DIY wedding was featured on ReFab Diaries), they've taken on some of those ambitious projects that so many of us pin, but so few of us actually attempt. The result is a home that is uniquely them. 
As a side note, although Terri refers to their second bedroom as an "embarrassment" due its unfinished state, I included it in the tour because I find her sewing corner completely charming, and because it contains a hand chair; the hand chair, in turn, represents a very relatable scenario. This chair was one of Terri's very first purchases upon moving to Chicago in her early 20s and is now a point of friendly debate, as in, Adam is routinely looking for ways to set the hand chair free, and Terri is still too attached to let it go. I think many of us who cohabitate have a proverbial hand chair…I wonder if Adam will "accidentally" break it while dusting one evening, a la the Christmas Story leg lamp…
Apartment Therapy Survey:
My Style: Crafty? Not sure we know what to call it otherwise. Definitely modern of sorts. Clearly we don't know the vocabulary.
Inspiration: Lots of Pinterest! Any DIY blogs. We read Dwell, but we get a little bored of the white, minimalist simplicity. And we get into a little trouble with this, but we seem to get inspired by small pieces instead of the big picture. We always feel like that will become clear as the details set in.
Favorite Element: The living room bookcase. I'm a huge reader and lover of physical books (it was the theme of our wedding), so it works to inspire and visually interest us. I tried to read an e-book once and my soul is still hurting. The agreement is that I won't part with my books and Adam won't part with his records, but everything else is fair game.
Also, the poster explosion in the stairway and the upstairs hall. We're both poster lovers (Adam being a musician and myself being a graphic designer), so we kept buying them and saying "we'll frame that someday" as we stored each away in a solitary cardboard tube. Once we were overrun by tubes and did the math, we realized that we could either afford to eat – or frame our posters. We chose to eat. And so another solution was quickly forged.
Biggest Challenge: It's not a large place, so making it feel open is a challenge. We often have an issue with editing, and probably could use a little larger dose of that minimalism, but we try…
Also, when we moved in we decided on the color schemes for each room, and we have a hard time ever deviating from those set colors.
What Friends Say: They say that the DIY touches make all the difference. Also "You guys are big on color, eh?"
Biggest Embarrassment: The second bedroom and the entire basement. The second bedroom will one day become a nursery, and the fact is that when I get really focused on a project or an entire room, I get a little, well, obsessed. So, to save my sanity and preserve Adam's patience, we just had to shrug and say "that room will be unremarkable until it becomes its own 'thing'". As for the basement, it's small and the main purpose was storage, but even the finished office/3rd bedroom/workout room/storage facility is a disaster. Maybe trying to make it four rooms in one wasn't the wisest decision?
Another factor is that we rent this townhouse, and so we want to make the place our own, without putting too much money and time toward permanence since we have no idea what we'll really need for our someday home.
Proudest DIY: The headboard made of books in our bedroom. Candice of REFab Diaries, who is our guru for a few of our DIY projects, in the past and in the works, pointed out the idea to us.
Biggest Indulgence: The portable fireplace in the living room. We bought it from a friend who ran the Vintage Bazaar. We loved it so much, and really needed a signature piece in that room. It's the only piece that we've allowed to break the color scheme rules in a room, but one day I will probably go mad and spray paint it white…or purple, oooh!
Best Advice:  Take your time, don't feel like you have to fill a space all at once, get (or create) pieces to build the rooms around. Don't get too tied into limited colors — sometimes we feel slightly cornered by this decision.
Dream Sources: Honestly, we just wish we had an unlimited budget on eBay, Craigslist, and at the Kane County Flea Market. And a LOT of spray paint.
BEHR: Serene Sky (Every room)
VALSPAR SIGNATURE: Grape Purple (Living Room, Basement Bath)
BEHR: Grape Green (Kitchen)
BEHR: California Poppy (Master Bedroom)
Bookcases, TV stand, coffee table, Hanging light fixture, floating shelves: IKEA
Fireplace: Vintage Bazaar, purchased from Katherine Raz of Back Garage
Chair: Vintage, reupholstered by Kylie at Recovered Interior
T&A pillows: DIY
Painting above couch: Done by a friend and artist Amanda Sears for us as a trade for Adam's web dev services – complete with our initials.
El signs on canvas: Our friend's pieces
Turntable – Crosley brand
Book flower vase – DIY, wedding centerpiece
Window frame: Kane County Flea Market, DIY design
Table: Bought on Etsy, recovered and restored at home
Dog bowl stand: DIY
Chairs: Kane County Flea Market, and a healthy dose of spray paint
Window frame: Kane County Flea Market, DIY design
Table: Bought on Etsy, recovered and restored at home
Dog bowl stand: DIY
Chairs: Kane County Flea Market, and a healthy dose of spray paint
Hanging flower vases: CB2
Shower curtain: Bed, Bath & Beyond
• HOUSE TOUR ARCHIVE: Check out past house tours here.
• Interested in sharing your home with Apartment Therapy? Contact the editors through our House Tour Submission Form.
• Are you a designer/architect/decorator interested in sharing a residential project with Apartment Therapy readers? Contact the editors through our Professional Submission Form.