Tesla's Solar Roof Is Actually Cheaper Than a Normal Roof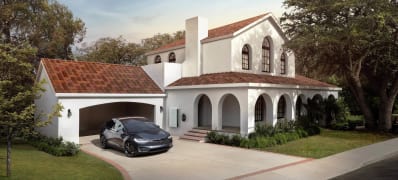 (Image credit: Tesla)
Just under six months after announcing its Solar Roof, Tesla has finally put a price tag on those eco-friendly solar tiles that look like the real thing — and they're actually really affordable.
Orders are now being taken for the Tesla Solar Roof at a price of $21.85 per square foot, which is nearly 20 percent less than the cost of a normal roof — even without factoring in the energy savings.
Back in November, Consumer Reports projected that the Tesla solar tiles would need to come in at $24.50 per square foot in order to compete with traditional roofing materials, something Tesla CEO Elon Musk was able to handily deliver — and then some.
Tesla's Solar Roof tiles are made of glass over a photovoltaic substrate as a replacement for traditional roofing materials — not an aftermarket add-on to the roof line, so they actually look like the 'real thing" from the ground, allaying previous aesthetic hurdles to solar panel adoption (much like Tesla already has already done for the electric car).
Solar Roof is launching with four styles: Tuscan, Slate, Textured, and Smooth, with two of the styles — grey smooth and textured black glass — available to order now for installation, with the other two options (and orders outside the US) coming in early 2018. Tesla says that installation will take about five to seven days, entirely managed by the company itself.
In addition to purchasing the Solar Roof, Tesla is packaging the system along with its forthcoming Powerwall 2.0 — a battery storage device with a built-in inverter that connects to your home's electrical system, which will cost an additional $6,500 but could essentially take your house completely off the grid with 100 percent renewable energy, Musk promises.
The absolute best value feature, though? Despite originally joking that he wasn't going to promise an infinite warranty for the tiles, it turns out that Musk has changed his mind. "We offer the best warranty in the industry—the lifetime of your house, or infinity, whichever comes first," a Tesla rep told Inverse.
In addition to the value proposition, Tesla's Solar Roof is being touted as stronger than traditional roofing tiles, too — something that will be especially important to homeowners in sun-drenched yet wild-weather-prone regions like Texas and the Southwest, where flying debris could also be a hurdle to adoption.
No sweat, says Musk. Just watch this video he posted on Instagram of a solar tile taking a direct hit from a "slo-mo hail cannonball."
What do you think of Tesla's Solar Roof? Tell us in the comments.