The 10 Best Natural Pillow Alternatives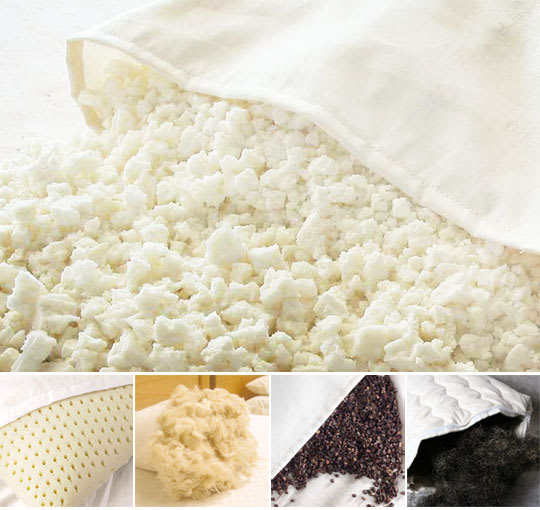 Picking out a pillow must be one of the most subjective and personal choices one can make for their personal well-being. It's just a pillow, but it makes a huge difference between having a good night's rest and one tossing and turning. Another consideration for many is allergies. Although goose down is considered the premium choice, there are many out there who'd suffer dearly sleeping on the soft filling. So we've compiled a list of ten natural, eco-friendly choices for your sleeping needs worth considering...
Horse Hair: Organic cotton on the outside like a typical pillow, but the inside is filled with coarse horsehair (collected from the manes of live Argentinian horses...just imagine an equine Fabio). This coarse filling provides a firmer feel, with a very dry texture that supposedly works well with profuse night-time sweaters and reputedly even has anti-rheumatic qualities. Horsehair is also naturally springy and elastic, retaining its shape.
More info for purchase here.
Green tea and silver infused: Bedding manufacturer Keetsa's claim to fame is their use of EverGreen odor control, made from real green tea extract. Their naturally hypo-allergenic pillows are also infused with silver throughout their filling, providing additional antibacterial properties. The contoured memory foam pillow works best for side and back sleepers, with taller people use the higher mound (5"), while shorter people use the smaller mound (4").
$69.95 for a standard pillow
Buckwheat: We grew up with a few of these, and personally we found them a bit too firm. But they are noticeably more comfortable to use during hot summer evenings, as the buckwheat hulls allow for improved air circulation, leaving our heads less sweaty. In Asia these pillows are recommended for sufferers of headaches, back pain, snoring, neck pain, migraine headaches, tension, muscle pain, stress, and other problems associated with sleep apnea. We like the newer option which provides the cooling properties of buckwheat with the additional layer of wool now available. They're "o'tay!"
Millet: Another similar seed option are millet filled pillows. We're used to eating millet, but yet have tried sleeping upon this finer sized seed in its pillow form. Millet hulls are rich in silicic acid which, and there are claims that body heat releases the compound soothe muscle pain, stimulate the metabolism and improve the immune system. What's notable about this option is that many manufacturers provide the option to refill/replace the millet inside for customizable sizing, and the millet hulls might be preferable for those who find the buckwheat too loud. There's also an option for both millet and buckwheat together, marrying the best of both options.
Hemp: The wonder material of multiple uses, can also be woven/spun into pillow packing that is very similar to that of cotton. The feel is soft (they become softer and softer with use) but firm and ideal for those who do prefer a medium-loft, not-so-fluffy pillows, and a very durable filling/cover with mold resistant qualities. Care for hemp pillows is similar to standard cotton pillows; occasionally allow them to set outside in the sun for a few hours to renew/cleanse. $99 gets you a 100% certified organic hemp pillow that's grown and processed without pesticides or synthetic chemicals of any kind
Natural latex rubber: Harvested from the South-East Asia's "Hevea Barsiliensis" Rubber Tree, the sap is processed into pure or mixed latex rubber (look for 100% natural latex). For those looking for an alternative to memory foam, 100% natural latex could be a preferable option, since latex conforms to the body's contours and evenly supports the spine just like memory foam. A favourite amongst allergy sufferers, natural latex has antimicrobial properties that resist dust mites and other allergens as well as being mold and mildew resistant. These pillows, like memory foam, can get warm, but many models come with venting holes to allow body heat and moisture to dissipate! About $55 for a standard size and $65 for a queen.
Wool: When we think of wool, we still get that itchy-uncomfortable feeling of the wool Izod sweater our mom used to make us wear to church every Sunday...we still shy away unless we see "cashmere" in big, bold letters. But wool is an excellent renewable pillow filling, so durable, it can bend back on itself 20,000 times without breaking (cotton will break at 3,200 times, silk at 1,800). And like those old fisherman's sweaters proved, wool wicks away extra moisture, keeping your head warm, but dry. About $80 each.
Kapok: we just recently mentioned the kapok tree (also known as the Ceiba or Silk Cotton Tree). Kapok fiber is very similar to silk making the pillow feel firm yet soft inside, and doesn't mat down quickly like cotton, ensuring a long life. This filling is also recommended often to allergy sufferers, though we wonder if they're are any reports of people allergic to the seed pod's fillings themselves. About $65 for a standard size pillow
Natural Shredded Rubber: Yeah, we know...it looks like cottage cheese, so put away the pineapple slices already. But like the molded natural latex rubber pillows above, these shredded varieties allow for hypoallergenic sleep with the supportive comfort similar to memory foam. Available in an assortment of sizes for: travel 14x20"-$40.00, standard 20x26"-$48.00, queen 20x30"-$54.00, king 20x36"-$62.00 from The Organic Nest.
Duck Down: Here's an alternative to goose down filling that is recommended for side-sleeping allergy sufferers. The smaller size of duck feathers provides an even more buoyant filling feel than traditional goose down ("less quilly" is how one site described it). Duck feather filling seems less common here in the States, popular in Europe, but quite affordable at around $26 for a standard size pillow.
Apartment Therapy supports our readers with carefully chosen product recommendations to improve life at home. You support us through our independently chosen links, many of which earn us a commission.