The Best Day to Shop the IKEA As-Is Section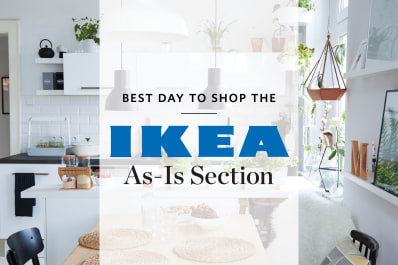 (Image credit: Ikea)
IKEA is a many-splendored place. Along with rows and rows of inexpensive but stylish furnishings, the mega-retailer also boasts a pretty impressive "as-is" section—filled with broken items, custom returns, and of course major markdowns. However, the only problem (like most hassles related to shopping at IKEA) is timing: figuring out the best day to show up to peruse these oft-ransacked shelves.
To help make your next as-is shopping endeavor a bit easier, we called up IKEA staffers and searched the web high and low for answers. Read ahead to find out when IKEA's as-is section is actually worth showing up for.
What IKEA Employees Say
A quick call to a local IKEA—in this case the Paramus, New Jersey store—revealed that the as-is section is actually replenished every day. A customer service representative named Michelle informed me that "customer returns are added to their as-is section all day, everyday," suggesting that Mondays—after a busy weekend of returns and shoppers accidentally breaking items in store—"might" be the best day to show up.
Michelle also reminded me that once a week, most IKEA stores offer a 10%-off as-is section discount. However, that day varies from store-to-store, so your best bet is to call your nearest IKEA to find out what day of the week you can score an even bigger markdown.
What Insiders on Reddit Say
Leave it to the commenters at Reddit to cover any of our unanswered IKEA questions. It seems that a lot of users (many of whom either work for IKEA or work with IKEA products) feel that mid-weekdays—after staffers have had enough time to restock after the weekend rush—are actually better for shopping the as-is section. As user canyouhelpmeottawa explains: "I find that the day of the week you visit the as-is section matters. Avoid the weekends and Mondays. Mid week is better."
What the Rest of the Web Recommends
For the most part, the rest of the web believes Monday is the best day to go as-is shopping at IKEA. In one of their popular IKEA articles, Buzzfeed writer Peggy Wang suggests hitting up the as-is section on Monday, because "most people return stuff on the weekends, so the stock will be bigger and not as picked over." Buzzfeed's article also suggests showing up on Wednesdays for the 10% as-is discount—although remember my earlier call to one of IKEA's customer service reps confirmed that those days vary from store-to-store.
LifeHacker's Kristin Wong, cosigns the same sentiment in her story: "For a Better Selection, Shop IKEA's As-Is Section on a Monday." She points out that after the weekend rush, "You can find excellent deals on returned merchandise on Mondays."
Meanwhile, Chloe Daley at Refinery 29 has another noteworthy as-is section shopping suggestion; this time for the best month: In June, right before the new merchandise arrives, all the display merchandise is moved to the as-is section. At the Brooklyn location, only about 30% of the as-is items are things that've been used and returned. The other 70% is made up of those perfectly fine floor pieces that are insanely discounted. It's also a place to find that sold-out item no longer on shelves.
So it appears the consensus on the blogospheres is that Monday—as well as the month of June—offers prime as-is shopping at IKEA.
In Conclusion
Although it might seem like showing up bright-and-early Monday morning will improve your as-is pickings, our research reveals that it's probably best to give IKEA employees a little time to restock the section after the weekend rush. Any time from Monday afternoon to Wednesday will ensure an ample offering of post-weekend as-is goods, but if you can't make until later in the week don't worry, IKEA staffers swear they restock every day.
Refinery 29 points out that during the month of June, before the new Fall merchandise arrives, most of the previous year's product moves to the as-is section—with" insane discounts" on "perfectly fine" housewares. Also don't forget to find out what day of the week your local IKEA offers an extra 10 percent off as-is items, so you can anticipate better deals (and picked-over shelves) ahead of time.