This Waste-Free, Self-Cleaning Lint Remover Might Just Change Your Life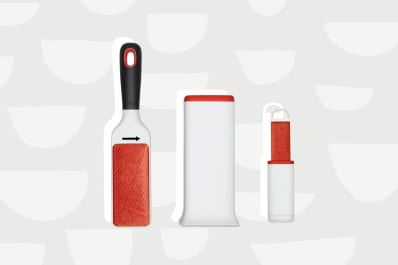 I have to be honest, I hate lint rollers. I get why they're sticky, but also, I really don't like peeling off hairy, dusty, sticky papers that just get thrown in the trash. It feels wasteful, not to mention kind of gross (although I do have to admit, I enjoy the satisfaction of taking one quick swipe at a linty pant leg and seeing it look like new). But when you live with a cat—especially one named Ginny who has mostly white fur, and even more so when you're a typical New Yorker and have a mostly-black wardrobe—lint removers are a necessary evil.
The OXO FurLifter
Enter OXO's Good Grips FurLifter Garment Brush, which I started using about a month ago—and it's life-changing. Okay, maybe not life-changing, but it has improved the whole cat hair removal process for me, and if you also aren't a big fan of traditional lint rollers, it will likely do the same for you.
Note: I was genuinely so excited to test it out that I may or may not have rubbed it on the cat because I didn't have any linty clothes at the time. I also ran into my roommate's room (with her permission, obviously, I'm not a monster) and rubbed it on her bed, because Ginny is hers and sleeps in her room. Anyway, I have to say, it worked like magic.
It's No-Waste and Self-Cleaning
The FurLifter brush takes care of my two major issues with the typical lint removers—it doesn't produce waste, and you don't ever have to touch the dirty parts. Plus if you're a frequent de-linter, it'll save you money in the long run. Rather than using a roll of sticky paper that you throw out afterwards and have to buy refills for, it features a catchy fabric that collects lint and hair when you rub it in the right direction (there are arrows on the brush to guide you).
When you're done, or if you need to clean it midway, just stick it in the standing base—as you pull it back out, the base collects the debris at the bottom. And you don't even have to touch it to clean it out, as you can just pop off the lid at the bottom over a trash can and dump out the debris that way.
It Comes in Multiple Sizes
Along with the garment brush, I also have a mini travel sized version that works just as well and can easily be tossed in a purse or carry on bag. But it's also important to note that there's also a furniture brush and a carpet rake. None of these versions require refills, and all of them are self-cleaning.
Apartment Therapy supports our readers with carefully chosen product recommendations to improve life at home. You support us through our independently chosen links, many of which earn us a commission.