How 'The Brady Bunch's' Maureen McCormick and Barry Williams Spend Their Perfect Nights In
We independently select these products—if you buy from one of our links, we may earn a commission. All prices were accurate at the time of publishing.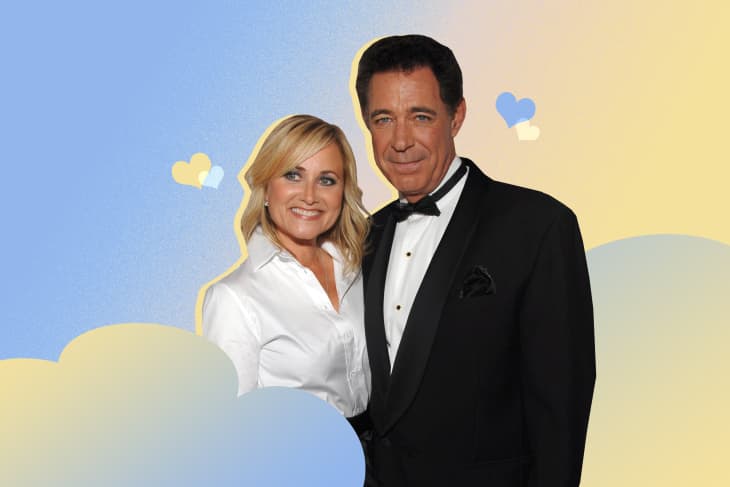 If you were (and still are) an avid fan of "The Brady Bunch," you'd recognize these two faces anywhere: Maureen McCormick, who played Marcia Brady, and Barry Williams, aka Greg Brady. More recently, the oldest Brady kids were reunited alongside their TV siblings on the set of HGTV's "A Very Brady Renovation," which premiered Monday, September 9.
Follow Topics for more like this
Follow for more stories like this
If you're not already familiar with the new show's concept, here's the TL;DR: Last summer, HGTV bought the Los Angeles-based house that was used as the exterior for the classic 1970s sitcom. All six of the Brady kids and eight HGTV stars teamed up to complete a massive renovation, making the interior look exactly like the soundstage where "The Brady Bunch" was filmed. Every episode will tackle different parts of the house.
When they weren't working away on this passion project, we wondered what the eldest Brady kids did to unwind and relax those sore muscles. See below for each of Maureen's and Barry's answers to how they would spend a perfect night in. Don't be surprised when you see some similar responses—they are TV siblings, after all.
Describe your perfect homebody scene in five words:
Maureen McCormick: Gardening, Crafting, Cooking, Cleaning, Friends/Family.
Barry Williams: Warm, Wine, Music, Movie, Dinner.
Are you alone or with someone else?
MM: I would say that it would be with family and friends.
BW: I'm with my wife, Tina.
What's your night-in uniform?
MM: Probably jeans, slippers, a sweatshirt, or PJs. Something really comfy.
BW: Cotton socks, cotton tie string sweats, soft V-neck t-shirt.
What two people, dead or alive, would you let crash your night?
MM: My mom and dad, oh my god, what I would give for one more night with them.
BW: Sean Connery and Paul McCartney. They come from different sides and they're experts in two fields I love but I think they would like each other.
MM: I go back and forth. Usually it's TV.
MM: I always check into the news but then I like to change it, so I seriously love to watch HGTV and Food Network, which I've been watching a lot lately.
BW: "The Other Guys." It requires several viewings because when you laugh, you laugh over the next three jokes.
MM: Music, oh please bring on the music, always! I listen to a lot of country music, I'm obsessed.
BW: Music. Soft classic rock, for a romantic night, it would be a little Billy Joel and Elton John playing.
E-books or the real deal?
MM: I am a need touch and feel person, I'm not much for doing the eBooks. I was kind of my whole life on my iPhone, so I like a book.
BW: Print books, in fact I have a collection of books that are classics from the '20s, '40s, and '50s that have been reproduced in their original type on the original paper.
BW: I'm just about to finish, in fact when I get off I'm going to read the last few chapters, "Farewell, My Lovely" by Raymond Chandler, and I'm going to find out who died.
MM: Yay! Games have always been a huge part of our lives. Every time my daughter comes over with her fiancé and were hanging out, or any of my family from Hawaii, games are always played. Can't live without them.
Order in or cook for yourself?
MM: Definitely cooking for myself.
BW: On the perfect night, somebody comes in and cooks, serves, cleans the kitchen, and then we go watch the movie.
MM: Lately my husband and I have been eating a lot of bowls and one-pan sheets. I love to take out a cookie sheet, cover it with aluminum foil, and put on vegetables, chicken, sweet potatoes, and garbanzo beans, then I like to roast them all. Then I love to make tahini sauces or plant-based sauces to pour all over. Then of course, I love baking too. I love to bake fruit tarts from the German relatives that I have in my family and their lemon cakes, and I love making cookies or bread.
BW: We love a power salad with greens, vegetables, quinoa, and then we have a Mediterranean chicken dish. On the perfect night, someone else does it.
What drink are you pouring?
MM: Honestly I'm obsessed with sparkling water, but I love a really good glass of wine, either sauvignon blanc or pinot noir.
BW: We're not very exciting in that, but we enjoy an iced tea, and my favorite drink is sparkling water.
MM: Well, definitely dark chocolate. My husband and I have a ritual where we have our sweets for the day together. We're just kind of cheersing to each other in that moment.
BW: We're not big fans of traditional desserts, so a really nice one for us is chopped fruits and a little whipped cream on top.
Do you have a self-care ritual?
MM: I love my toothbrush, I have one of those electric toothbrushes. I had always used a regular toothbrush and I got one from my daughter's best friend, who's my hygienist, for my birthday. It's the greatest thing. I love taking off my makeup with makeup wipes and I like to hydrate with Neutrogena. I wash my face, then I put on cream, and I love putting on lavender lotion before I go to bed—the lavender makes me feel really relaxed and very soothed.
BW: I use coconut oil and baking soda and I'm a huge believer in all care, which always includes flossing, and I use an electric toothbrush. I typically like to shower at night before bed, I like to go to sleep clean and fresh.
What do you try to avoid at all costs?
MM: There's a certain point where I don't like to be on the phone, but also a bra. It's so great to take that thing off.
BW: The phones are off, all of them.
Candles: yay or nay? (if yay, what's your favorite?)
BW: Electric or battery, and I have them all over the house.
MM: Kind of yay! I know it sounds sick, but there are certain chores that make me happy. I love when my husband starts to do his laundry I'm like honey, let me do it! I love using bleach and getting them just so white and bright, and I love getting marks off of my woodwork and walls. Everything is white, and I just like making it shiny and bright.
BW: Oh come on, does anybody get excited about chores? I'll pass on that. Those are the ones by themselves I think.
Thanks for chatting with us, Maureen and Barry!