You Can Stay In This Townhouse From "The Crown" and Have Afternoon Tea with Corgis
We
independently
select these products—if you buy from one of our links, we may earn a commission. All prices were accurate at the time of publishing.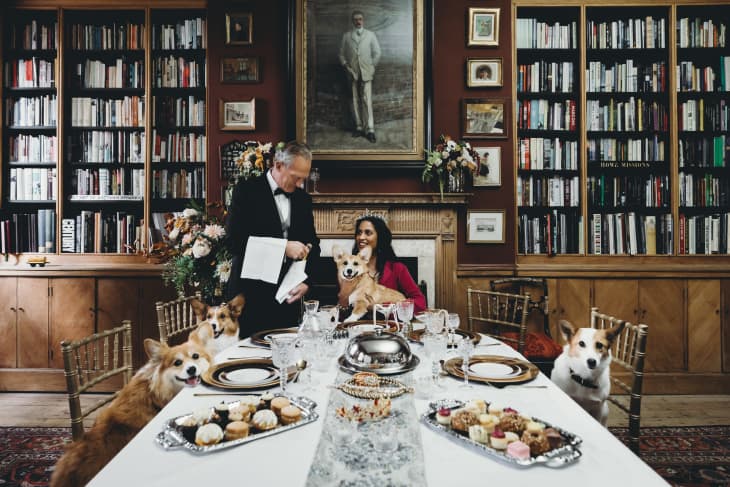 As you settle into season 3 of "The Crown" on Netflix and adjust to Olivia Colman's version of Queen Elizabeth, you may be thinking: What if it was me who wore the crown? Well now, thanks to luxury home rental site Plum Guide, you can test out your theory.
For the month of December, The Earl of Fitzroy in London is available for your vacationing pleasure. You may recognize the 6,500 square-foot home from season 2 of the period drama, and now you can enjoy it, too. It's going to cost you though, and the stay is a minimum of a week. The price varies (it's around $2,000 a night), but will it be worth it? That's a resounding and regal yes.
First of all, the space can accommodate up to 16 people, so your loyal subjects can join you. You can even book a personal butler for your stay who can ring a bell when it's time for you and your guests to enjoy a royal etiquette workshop. And yes, the workshop is a very real thing hosted by a very real world-renowned etiquette coach who has been called "special forces in the world of politeness."
Did you think that was all? No, Her Majesty the Queen must take a horse and carriage ride around Fitzrovia Square before an afternoon tea, complete with corgis (yes, also real) and a royal banquet. There's even an opportunity to try on royal jewels and a collection of the Queen's favorite brands. Oh, our mistake, you, your highness, are the real Queen. They are your favorite brands.
This all comes with the cherry on top of a private tour of the Stately Rooms at one Buckingham Palace. Oh, we forgot to mention that there's a stunning library that we imagine would be lush with British literary goodness, where your butler and/or etiquette coach would be happy to read aloud to you.
Book your royal stay at Plum Guide. Or have your butler do it for you.