The Home Edit Says This Design Trend Is Here to Stay, So You Might Want to Double Down on It
We
independently
select these products—if you buy from one of our links, we may earn a commission. All prices were accurate at the time of publishing.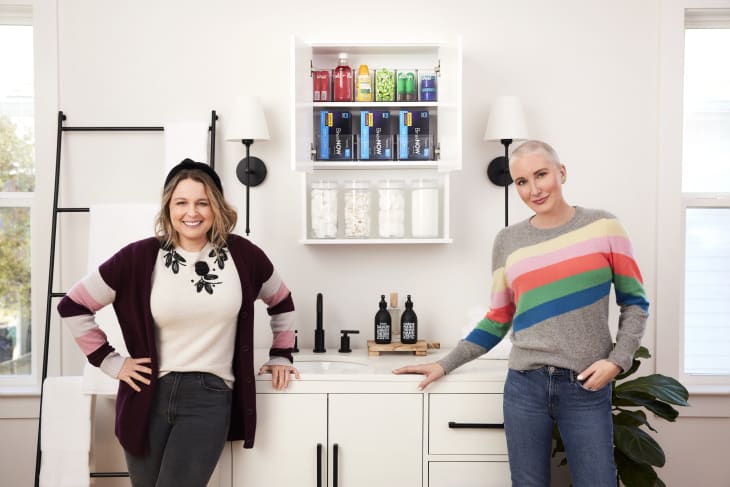 Maybe you know celebrity professional organizers Clea Shearer and Joanna Teplin of The Home Edit from their Netflix show, "Get Organized with The Home Edit," or you follow them on social media for their cheery, colors of the rainbow-coded pantries, closets, and cabinets. However you came to them (I recently got to chat them up because The Home Edit partnered with Abbott to help people organize their medicine cabinets and get prepared with wellness essentials like BinaxNOW COVID tests), you probably trust their design savvy when it comes to making things pretty and practical.
The duo is all about setting up organizing systems that everyone in a household can see and understand — literally with clear storage and written labels, the latter of which the duo says are great for accountability when it comes to getting everyone to pitch in with clean up. When asked about their home predictions for now and into 2023 though, Shearer and Teplin stuck with translucence as their theme, naming "glass-front fridges and cabinets" as their trend to watch right now.
The Home Edit gals will be the first to admit this trend requires a commitment to order and cleaning, so it might not be for everyone. "Visible, transparent, and shear materials are beautiful, but things like glass cabinetry and glass-front fridges add a layer of stress because they require lots of maintenance," says Teplin. The effort may be worth the payoff though, when you're able to instantly find your favorite mug for coffee in the morning or you feel like your reflective surfaces are sparkling and throwing light around your home, making your kitchen, dining room, or living room look brighter and airier.
The kitchen probably tops the list of where you'd expect to see glass cabinetry, and what's nice about that is you don't have to go overboard with this trend on every one of your cupboards. Instead, you can stick to just the uppers, as shown above, or choose a few accent cabinets to highlight with glass panel doors for an even more cost-effective solution. Yes, glass can be expensive, especially if you choose a finer glass or an intricate paned design, but you only have to spring for a pair of cabinets or two for visual impact. You can also try this look as an accent on the highest row of uppers, right by your ceiling line, to display some of your favorite serving pieces or pottery, or do the same with a freestanding glass-front hutch if you can't renovate or change your cabinetry. 
The kitchen isn't the only place you can incorporate glass-front furniture. Try a china cabinet in your dining room if you have one — or even something smaller to use as a bar cabinet in your living room. Glass-front media consoles also exist, though, if concealing wires is your goal, this might not be the best idea for you. The best part? You get the visual eye candy that comes along with open shelving with maybe a little less dusting, thanks to the glass doors, which also add a layer of protection for your pieces. Now that's a The Home Edit-approved win-win.