A House We Loved and Lost: The Story of My Grandparents' San Francisco Home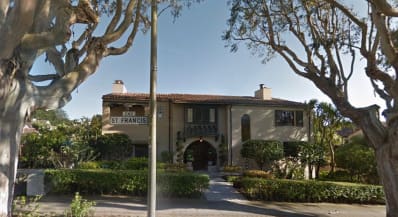 (Image credit: Google Streetview)
Our homes are the biggest settings in the stories of our lives. The walls hold so much more than the things we've curated or the edited details of what we choose to live with or without; they hold the memories of all the small moments that make up our days and the nostalgia of times — bringing home babies, blowing out birthday candles, the most intimate conversations, the tears, the laughter — that live in our memories for our lifetimes. Houses are part of so many families' histories, so much so that even houses in a family's past live on in oral history. This is the story of such a house.
When my San Francisco-native grandmother was pregnant for the second time (after a miscarriage in Boston where she worked for the war effort during WWII while my grandfather was in intelligence at MIT), she wanted twins. So badly. The doctor, a gynecologist who was also a family friend who joined the family for holidays (seriously, how?), dashed her hopes when he told her, "Sorry, Marian. There's only one heartbeat."
After she gave birth, drugged and strapped down as was the norm in those days, she panicked when she heard, "Now Mrs. McBride, there's one over here and one over there." But as she emerged from the medicated fog, she realized that all was more than fine; she had her longed-for twin girls! They had been one behind the other in the womb, rather than next to each other, with one baby blocking the sound of the other's heartbeat.
For the first thirteen years of those twin daughters' lives, my grandmother lived with her mother-in-law, sister-in-law, and her niece and nephew. She was lowest in the pecking order of adult women in charge, and she knew it. But elsewhere in her life, she was, literally, a boss.
Far ahead of her time, my grandmother worked her way up to become Vice President of Print Production at San Francisco ad agency, Hoeffer, Dietrich, and Brown. As she told it, she lived on cigarettes and coffee. Nothing got past her incisive eye at the office, yet she ruled her department with a class and grace described by all those who worked with her.
Finally it was possible for my grandparents to move into a home of their own, and for the second time in her life, my grandmother had a big, crazy wish. She'd loved a house in the beautiful St. Francis Wood area of San Francisco since she'd been a girl going on Sunday drives with her Italian immigrant parents. It was a mission-style mansion on the corner of a neighborhood festooned with the gnarled branches of stately trees.
The house was not for sale. But my grandparents knocked on the front door and offered to buy it. For the second time in her life, my grandmother's impossible wish came true.
The house is the stuff of legends in our family. Everyone talks about how beautiful it was and so spectacularly decorated. Much of the furniture was custom made, including the dining room table and chairs I inherited.
In that house, my grandparents raised their teenage daughters, were parent-figures to many more children than just their own (they scrawled their names under the coffee table), and cared for dozens of cats who spread the word among the felines that theirs was the house to go to if you wanted love and food.
I have visions of the sweet sixteen surprise party that was held in the backyard after my mother and aunt came home from seeing The Sound of Music at the movie theater. And I know that it was in the foyer of that house that my mother literally flipped her male friend—he'd challenged her to it when he learned she was taking jiu jitsu.
But all these stories were told to me through a nostalgic filter. The house was sold before I was born. As I've been told, property taxes at that time were calculated by how much of the home was on the sidewalk, and since the St. Francis Wood house was on a corner, the property taxes became prohibitive. Eventually my grandparents sold it.
We don't have the house. But it's intertwined in our family's history and, in a different way than I sometimes wish, it's getting passed down. When my family visits San Francisco, we drive by it and the same stories are retold, becoming a part of the fabric of the childhood stories my own children hear. I have several beautiful pieces of furniture that were designed for the St. Francis Wood house, so my own family's memories are made among some of the same family treasures.
When we built our home six years ago in Florida, I was ecstatic that our builder let me put arches in wherever reasonable as an architectural detail. As I recently I looked through the album of my grandparents' house, one that I'd perused many times as a child, I saw why I might have such an affinity for them; they were all over the St. Francis house. And just like the legend of the home itself, they must have gotten into me.