This Colorful Tabletop Range Will Bring a Touch of Playfulness to Dinnertime
We independently select these products—if you buy from one of our links, we may earn a commission. All prices were accurate at the time of publishing.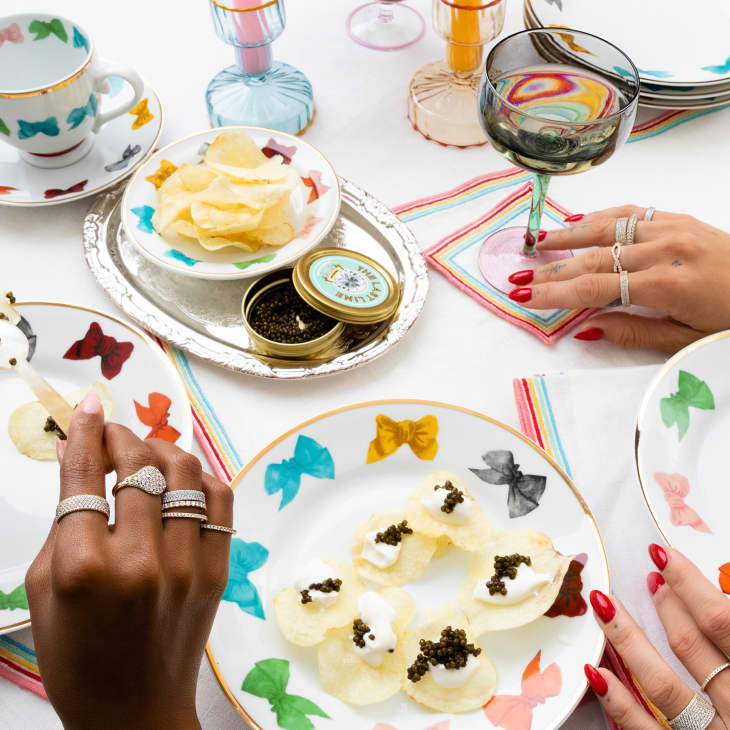 Whether it's date night, a holiday get-together, or simply 7 p.m. on a Tuesday evening, there's always a reason to celebrate dinnertime. This year it rings true even more as many of us will now be spending the holidays with our families after a virtual festive season in 2020.
If you're looking to zhuzh up your tabletop this season, consider this playful new range from The Last Line. TLL Party is a colorful collection of fun and eccentric kitchen and dining essentials to take mealtimes to the next level. Featuring napkins, placemats, glassware, candlestick holders, plates, bowls, vases, and more, TLL Party is a nod to The Last Line's offbeat and eclectic spirit.
TLL Party is the brand's first-ever venture into the homeware space, with the range serving as a bold extension to the luxurious jewelry line that has a legion of celebrity fans—including Katy Perry, Gigi Hadid, and Brie Larson.
"The ethos of TLL Party is very similar to jewelry, there are the staples that you want to use every day and that make your setup feel instantly put together and there are the super special, thoughtfully designed pieces you want to treat yourself to! In both categories, I want our pieces to become heirlooms so it was important they felt current but not trendy," said founder Shelley Sanders in a press release announcing the range. "For me, I've always felt how a woman mixes her jewelry collection that makes it cool and I feel the same about home. I wanted to create pieces that can be used but not too worried about, we all know the signs of a good party, and nothing should be off-limits."
Handcrafted with luxurious materials in wild colors, and ranging from $90-$650, the TLL Party is a unique collection that can be mixed and matched to create an eye-popping tabletop for any occasion. Below, a preview of some of the standout pieces:
Zodiac Sagittarius Napkins, Set Of 4
Part of TLL Party's Zodiac collection, the Zodiac 100% linen napkin set is the ideal finishing touch for those who like to show off their star sign. Woven by hand, the chosen star sign appears in an applique treatment on two corners, with gold-threaded stars adding a luxe finish.

Buy: Zodiac Sagittarius Napkins, Set Of 4, $198
Rain-Bow Porcelain Dessert Plates, Set Of 4
Candy Glass Short Candlestick In Gold, Set Of 2
Zodiac Elements Dinner Plates, Set Of 4
This unique hand-painted dinner plate set will play to everyone's strengths during your next get-together, each with a different Zodiac element—earth, water, fire, and air.

Buy: Zodiac Elements Dinner Plates, Set Of 4, $575
Candy Glass Champagne Coupe In Assorted Colors, Set Of 4